Bespoke your dream home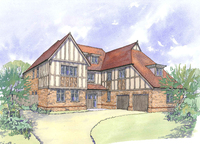 If the chance to bespoke a large detached property in a premier location in Reigate sounds appealing, Millwood Designer Homes has just the ticket. The award-winning housebuilder recently commenced building two substantial five-bed homes on the highly sought-after High Trees Road and there is still time to put your own stamp on them.
Each home will be in excess of 5,000sq ft and will benefit from an impressive specification, spaciously laid out over four floors. Outside, private gated entrances and double or triple garages befit the premier location, whilst south-facing gardens make the most of their delightful surroundings.
Beautiful hand-crafted kitchens, 5/6 reception rooms, 5 bedrooms all with their own en suite, a wine cellar and kitchenette have all been incorporated into each home's remarkable design. Millwood has even included a lift to access all floors, just in case you do not fancy climbing the oak staircase.
It is not all set in stone yet, as Sales Director Philip Brown explains: "Having only just commenced building the two properties, they are not due for completion until late summer of next year. This means that for a limited period, there is the unique opportunity to bespoke your home. The design and specification of each home is of a very high standard, but we appreciate that every family is different.
"This is why we are urging potential buyers to get involved early on as it means that you are able to make certain decisions about the internal style of the home so that it reflects you and your family perfectly. From the colour of the kitchen units, the choice of tiles in the en suites, or the shade of paint on the walls, you can work with Millwood to ensure that the home is finished to your expectations.
"If you get involved early enough, you might even be able to change the internal layout as well. As this is all subject to the stage of construction, we urge you to contact us soon if you are interested in this unique opportunity."
Guide price: £2.65 million. For further information, visit millwooddesignerhomes.co.uk.