Escape the winter and learn to play a beautiful instrument too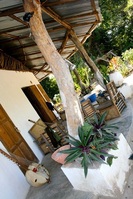 A small UK company based in Wales and Senegal offers Kora Holidays - the opportunity to learn the amazing 21-string West African harp in a beautiful, relaxed and authentic setting on the edge of a fishing village, Kafountine in Senegal. No time difference means no jet lag and a six-hour direct flight from several UK airports make this a truly amazing winter get-away with a difference. With fresh local ingredients cooked on site, solar power and fresh clean well water it is a true eco-holiday, with as much as possible of the income generated being retained within the local economy.
Adam Doughty is an patient and experienced kora teacher, a performer and a highly skilled maker. Every winter from November to April he and Kath Pickering open their home on the edge of the laid-back village of Kafountine to people who want to experience West Africa and the music in a truly immersive way. On the edge of the village and a 20 minute stroll to the beach, the 11 acre site is left largely as bush and supports a rich variety of plant, bird and wildlife. It is home to gardener Diabate and his wife Abi, and they, along with manager Moussa ensure that everything runs smoothly all year round.
"We are delighted that we have been able to create a haven where people come from the all over the world to enjoy learning the instrument that has become our life." explains Kath Pickering, who runs The Kora Workshop with Adam.
"The kora is played throughout West Africa and is now seen in Europe and further afield and as people discover that if kept in tune, it requires little or no skill to make a beautiful sound, and yet offers a real challenge to master"
"Our home in Kafountine has been described by many guests as a paradise - the sea breeze means the air is fresh and the garden is full of fruit trees including bananas and oranges. The mornings and evenings are cool (all the way 'down' to 15º C!) and all our beds have mosquito nets, though it is often hard to find a mosquito in the winter so the malarial risk out if the rainy season is very low."
The internet has enabled the company to reach many new customers, with the ability for people to write reviews and share photos and experiences with friends. You can search for The Kora Workshop in Google Maps and be taken to the very spot, with the outline of the land and several houses being visible from above. The holidays are in Senegal but it is cheap flights to the popular British winter sun destination, The Gambia, that enable people to visit Kafountine
Check out thekoraworkshop.co.uk for more information about all things kora-related: learning, holidays, instruments, bags, stands, learning material and more.