From the City of Stars to the Lake of Stars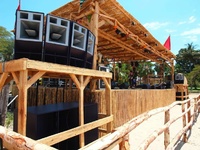 This year Malawi's number one arts and culture event will return to the shores of Lake Malawi, its performers including emerging talent from the Warm Heart of Africa through to international headliners. The festival which is being held from 26 to 28 September, 2014, is now in its eleventh year, the project aiming to promote Malawi as a tourism destination and provide much needed funding for the developing country. Well aware of its bucket list status with festival-goers looking to party with a purpose, Acacia Africa have a dedicated trip in the pipeline
Arno Delport, UK Sales & Marketing Manager for Acacia Africa, comments "With an established international following the event has captured the hearts and minds of ethical travellers looking to give back to Africa. At the event and beyond, Malawi also benefits hugely from overland tour operators such as ourselves who are able to handle the logistics and make the country more accessible. "
Based on recent figures, you may find up to 30 nationalities jamming to the beat, and around 3,800 people enjoying performances from over 13 countries and counting. . A focal point for many people choosing to overland across the continent, the event gives adventurers an opportunity to meet the Malawian people and feel the rhythm of Africa. Singer/songwriter Peter Mawanga and countryman Skeffa 'The Jamming Machine' Chimoto are the first two acts to be announced, and TEDx-style talks will be a brand new addition for this year. For updates on the new tour and a chance to experience the Lake of Stars "overland style" please watch out for updates on Acacia Africa's website.
A hot destination, Malawi also landed a place in Lonely Planet's Best in Travel 2014, the book showcasing the world's hottest trend destinations and experiences for the year ahead. One of the top 10 countries to visit due to its crowd free beach and bush safari experience, Malawi features on 18 of Acacia Africa's overland camping expeditions, the itineraries ranging from 24 through to 58 days.
For more information, visit acacia-africa.com.