Drive away in nearly new MG6 for £500 from the factory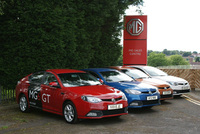 It's the first anniversary of the opening of the MG Factory Sales Centre this weekend and to celebrate, everyone visiting will be given a special present – the chance to drive away in a nearly-new MG6 for less than £500.

The Factory Sales Centre is able to offer this amazing deal on a limited number of nearly new ex-MG press and demonstrator approved used vehicles.

It means customers can put just £495 down as a deposit on a fully inspected used MG6 with a sticker price of £9,995. Monthly payments of £198.84 spread over 59 months and a final monthly payment of £199.84 means that there is no final balloon payment.

The anniversary event starts today (Friday) at the Factory Sales Centre at the MG Birmingham site on Lowhill Lane in Longbridge and runs throughout the weekend. The new £500 down offer will take pride of place alongside the party cakes, balloons, prizes and other fun.

Under the MG Approved Used Car Programme every used example of the award-winning MG6 GT and MG6 Magnette undergoes a comprehensive 130 point check and where required a full service carried out by the factory. Customers will also benefit from a complimentary seven-day drive away insurance.

Richard Bourton, MG's Business & Used Car Sales Manager, said: "The £500 deposit deal will make it easier for many people to get into an MG6. It's a great opportunity for people who can't make a larger deposit on a new car to get behind the wheel of one of the best value-for-money cars on the market.

"Most of the cars are less than a year old. They have the balance of the original warranty, AA European Breakdown Assistance and the higher spec models will have lifelong subscription to Traffic Master."

The MG6 GT was launched in May 2011 and the four-door Magnette sports saloon was launched in July 2011. Both cars were designed and engineered at the MG Birmingham site where final assembly also takes place.