Autumn foliage and festivals in Oklahoma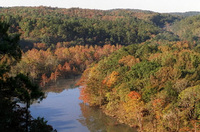 Discover the golden autumn glow that sets Oklahoma's landscape ablaze. The changing of the seasons ushers in new opportunities for rest and recreation in Oklahoma when autumn colours decorate the landscape. As the weather cools, Oklahoma becomes the go-to place to experience glorious autumn foliage and family-friendly festivals.
Enjoy a scenic drive through one of the prime foliage areas with the windows down or hike through an outdoor recreational area, watching as the autumn leaves seem to change colours before your eyes. Meander across the tops of ancient mountains and marvel at the breathtaking vistas as you overlook miles of rolling hills set ablaze with spicy autumnal colours on the Talimena National Scenic Byway. Or explore the Arbuckle Lake and Chickasaw National Recreation Area to gaze upon nature's magnificent colours reflecting on the lake's surface and lining the rippling creeks. Plan your autumn escape during late October and the first week of November to catch the peak foliage displays.
Oklahoma's most renowned autumn foliage drive, the Talimena National Scenic Byway, invites foliage fans on a pathway through the Ouachita National Forest right across the tops of ancient mountains in south eastern Oklahoma. Mile after mile of hardwoods and statuesque evergreen pines present an array of autumnal colour and splendour. The Talimena National Scenic Byway twists and turns over the gently rolling Ouachita Mountains, and around each corner of State Highway 1 are vistas more breathtaking than the last. Frequent scenic turnouts offer travellers the best views over the magnificent blend of autumn hues on the richly forested hills that seem to stretch forever. Discover the unique history behind the mysterious Viking carvings at Heavener Runestone Park or enjoy a hike through the golden foliage and camp at Talimena State Park or nearby Lake Wister State Park.
Typically, foliage can be viewed at its peak from the last week of October through the first week of November.
For more information, visit TravelOk.com.