Cruze Station Wagon wins Old Trafford approval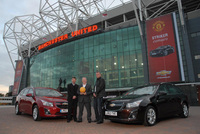 Chevrolet chose Old Trafford, home to Manchester United, as the venue to introduce the UK media to the new Cruze Station Wagon. It joins the already popular Hatchback model in the Chevrolet Cruze family.

"Success breeds success, which meant that launching the latest addition to Chevrolet's biggest-selling model range was an ideal opportunity to showcase both the Cruze Station Wagon and the brand's new partnership with one of the world's most celebrated football clubs," said Andy Higgins, Managing Director of Chevrolet UK.

The Cruze Station Wagon is designed for families and individuals with an active lifestyle. It builds further on the strengths of the already available Cruze models, and adds greater practicality with its 1,478 liter load space capability.

The event, which hosted over 35 journalists, started off with a session of test drives where a variety of Cruze Station Wagon models were available, including; 1.6 petrol LT, 1.7 VCDi LT and 1.7 VCDi LTZ.

Upon arrival at Old Trafford, Chevrolet's VIP guests were met by Manchester United legends Dennis Irwin and Gary Pallister.

With the expert guidance of the two former players the guests were treated to a tour behind the scenes at Old Trafford, and an entertaining evening in which both men recounted stories from their long and successful careers on the pitch.

"It's always a privilege to talk about my time with Manchester United," said Dennis Irwin. "Being back at Old Trafford to welcome the media and VIPs here to launch the Chevrolet Cruze Station Wagon was a real pleasure."

Gary Pallister added: "It was great to be involved in an event that showcased such passion, both for Manchester United and Chevrolet, and their future together."

The new Cruze Station Wagon was right at home in one of the best-know sporting stadiums in the world. Thanks to its muscular stance, powerful concave shoulder line and dramatic single arch roofline, the Station Wagon combines style and practicality in one perfectly proportioned package.

The Cruze Station Wagon is available now in three trim levels and a range of engines including the acclaimed 1.7-litre VCDi, making it the most frugal Cruze yet seen. With prices starting from £15,375, it delivers genuinely affordable style and versatility.