Fiji: Perfect for 50 plus travellers looking for a trip of a lifetime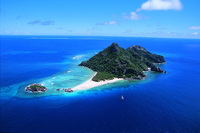 This summer saw thousands of young people setting off from the UK on gap years and many will stop off in Fiji, famous for it's 333 tropical islands and year round sunshine. But Fiji isn't just for independent travellers and young couples; according to the recent 'Frequent Flying and Globe Trekking Older Travellers Report' prepared by Mintel, holidaymakers in the 45-64 age group accounted for 40% of all long-haul trips in 2010, and Fiji as a destination has masses to offer them.
The Tui Tai tall ship cruise is a fantastic way to see remote areas of Fiji and to immerse oneself in the islands' history and culture. With a large part of its demographic being 50+, the Tui Tai can compete with the best in terms of luxury cabins, gourmet menus and onboard spas but this is not your usual luxury trip. The cruise visits areas of Fiji otherwise inaccessible to tourists and guests are encouraged to get involved with its work with local projects, delivering supplies, and teaching resource management. In return, guests experience authentic local cultural ceremonies and a sense of giving something back to the local communities. The Tui Tai also offers world class water sports, yoga courses and many other activities suitable for older travellers, all in stunning surroundings tuitai.com. Other small boat cruises around different areas of Fiji are available from Captain Cook Cruises (captaincook.com.au) and Blue Lagoon Cruises (bluelagooncruises.com)
Fiji is famous for its stunning scenery and is home to numerous resorts to suit all budgets. Respect for elders is central to Fijian culture so every effort is made to make a more mature visitor's trip problem free. Many tourists combine one of the larger resorts on the main island of Viti Levu where they can enjoy the excursions, spas and sports facilities, with one or two of the smaller boutique island resorts where the mood is more laid back and you can relax and enjoy the white sand beaches and beautiful scenery.
There's lot more to Fiji than beautiful beaches and resorts though, and on Viti Levu trips can easily be organised to the capital, Suva, with its museum charting Fiji's fascinating history, botanical gardens, bustling harbour, and vibrant shops and markets. Fijians are famous for their friendliness and welcome tourists into their villages to experience kava (local drink) ceremonies which are central to Fijian culture, as well as church services, singing and traditional 'meke' dancing first hand. Excursions to sites of historical interest such as the ancient Tavuni Hill Fort where Fiji's first inhabitants settled and the WW2 gun battery at Momi Bay are also easily organised.
Golf enthusiasts are in their element with numerous regional golf courses and three championship courses. And Fiji is of course an island nation, 333 islands in total, so perfect for water lovers with the majority of resorts offering skippered yacht cruises, boat trips and snorkelling. Fiji is also world famous for its scuba diving, there are fantastic dive sites to suit all levels of competency and it's never too late to learn with Padi accredited instructors and courses at numerous locations.
Although a long haul destination, Fiji is an easy place to visit from the UK - eating out, transport and shops are very good value, no visas are required with a UK passport, English is spoken throughout the islands, road signs are in English, Fijians drive on the left, there is no malaria, no poisonous insects and no inoculations are necessary.
For further information, visit fijime.com.