NatWest pigs are back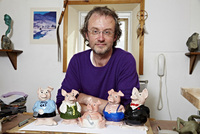 NatWest is bringing back its much-loved piggy banks in a children's competition to design a new pig for the famous family.
Nearly 29 years since the pigs were first introduced; NatWest has teamed up with the illustrator of the Harry Potter books, Cliff Wright, to launch the competition for kids aged 13 years or younger.
The return of the pigs follows a NatWest study of over 2,000 British parents, which found that 85% of mums and dads think it's important that children understand the benefits of saving money, and a third have encouraged their kids to set up their own savings account.
Britain's unstable economic climate is a significant factor in parents urging their offspring to learn about money, with 60% concerned about the long term financial security of their children. Over a quarter said that since the credit crunch they have started teaching their children about saving, and nearly a third (28%) said it had prompted them to open an account for their child.
The 'pigs by kids' competition launches on Monday 22 October - the start of half term week for many schools across the UK. Harry Potter illustrator, Cliff Wright – also known as the invisible wizard – will be encouraging children to produce drawings, plasticine models and papier mache designs of their own saving pig.
Images of the creations, along with the story behind its design, can be entered by uploading to the competition website: natwest.com/pigsbykids
The judging panel will shortlist three finalists and then members of the public will vote for their favourite pig and story – and the winning child's design will become NatWest's new, modern generation pig, to help encourage young people across the UK to learn about money and save more.
Cliff Wright says: "This challenge will not only keep children entertained during the holidays, but it's a great way to get them thinking about saving money. We'll pick one lucky child's design to create a new pig to join the iconic collection, which could inspire a whole new generation of savers across the UK. I'm thrilled to be involved and can't wait to help judge the entries!"
NatWest's study of British parents also found that many are saving on behalf of their children. Just over a quarter (26%) put some of their monthly wage into a separate account for their kids, with the average parent saving nine per cent of their earnings.
Dan Jones, Head of Savings at NatWest, says: "It's perhaps more important than ever for children to learn about the benefits of saving money, and although our NatWest pigs are nearly 30 years old, the message is still relevant today. As well as having fun creating new designs for our competition, we hope children will be encouraged to save a little of their pocket money."
To enter the competition and for inspiration or more information, please visit natwest.com/pigsbykids
The NatWest Pigs – A short history
The first NatWest Piggy Bank Account was launched on 5 December, 1983.
A child could open an account with £3, of which £2 was credited to the account and £1 went towards a ceramic money box in the shape of a baby pig, named Woody.
The child would receive additional pigs in the family as his or her savings grew.
The first time the regular six-monthly statement showed a balance of £25 or more, Woody's sister Annabel was automatically despatched free. For each £25 added to the account after that, the other pigs were supplied.
Annabel was followed by a brother Maxwell and later by mother Lady Hilary and finally, by father Sir Nathaniel.
In February 1998 a new ceramic pig, Wesley, was issued for customers opening a Personal Savings Bond for Children
Complete sets of the pigs have been valued for auction at over £800.
NatWest and young savers
Currently 555,000 young people have accounts with NatWest, which are either Young Savers accounts or Junior Stocks and Shares ISAs. For more information, visit:
natwest.com/personal/savings/g4/children.ashx
The NatWest Young Savers account is designed for children under 11, and helps teach them about savings. Parents are able to set up a standing order of at least £10 a month into this account.
The NatWest Junior Stocks and Shares ISA is a new way to invest for children, and allows parents to invest up to £3,600 for each tax year. The funds in the account are in the name of the child – but they can't withdraw any funds until they reach the age of 18.