Couples pamper in Pembrokeshire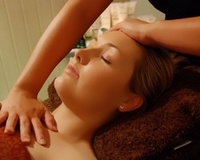 If it's about time that you and your loved one took a much needed break away in the arms of one another, then start packing your essentials into an overnight bag and set up home in Pembrokeshire in preparation to get pampered. This Couples Pamper in Pembrokeshire package is pretty perfect to discover the key memories to your love.
The very best aspect to this overnight break is if all you want to do is rest your head in a fabulous hotel with warming surroundings, indulge in home cooked, fresh local produce and revel in the company of your partner that is simply what we plan for you to do, along with the arrangement for a qualified holistic and beauty therapist to visit you within the comfort of your three star hotel surroundings.
Your hotel is a small; privately owned establishment altogether is home to fourteen bedrooms, all with en-suite bathroom facilities, flat screen TV and a finishing touch of complimentary in room refreshments. All of their rooms have been individually designed, each varying in style, colour and decor. A cosy lounge bar offers a pleasant retreat to sample local beers, spirits and soft refreshments, their Ivory restaurant provides a place to endeavour an array of home cooked food, all made with the finest local, Pembrokeshire produce all prepared and sculpted under an executive chef's eye.
The hotel's modern facilities serves well to it's name which translates into 'lovely palace' and as it is surrounded by the pretty Narberth town which boasts an abundance of quirky, enticing outlets to wander with the attractive harbour towns of Tenby and Saundersfoot a short drive away.
Desired time together comes during your tailored couple's pampered package which makes for the perfect finishing touch to a stay designed for celebrating you both as one. During your calming pamper time; fall shy to an Indian head massage, thermal auricular therapy and feel good facial. All three of these selected treatments will energise, bring an enhanced state of well being and moisturise you both, which can only boost confidence, elevate moral and beautify you both.
The pamper experience together will electrify your stay in Pembrokeshire and provide the icing on the cake to a perfect night away from the stresses and strains of everyday life. Your serene hotel ensures that your stay is without fault and enjoyed by you both at all times. Our Couples Pamper to Pembrokeshire is simply a splendid spa pastime in sublime surroundings.
From £195 per person based on 2 sharing for 2 nights B&B accommodation and a couples spa package.
For more information, visit activitywales.com.