The 'perfect look' - when women feel the most attractive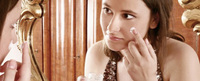 A woman's 'perfect look' consists of a post-holiday tan, French manicure and blonde curly locks teamed with dark, smoky eye make-up, it has been revealed. Researchers who studied 1,000 women found the majority only feel 100% confident with their appearance when they step out in classic clothes and perfectly applied make up.
It also emerged women feel 'hot' when wearing a sexy pencil skirt, a figure-hugging t-shirt and heels which elevate them three inches.
They also require matching underwear, very little cleavage, but as much 'leg' displayed as is possible.
Sara Wolverson of Superdrug, which conducted the research, said: "Modern women know what they like when it comes to make up and fashion.
"It's fascinating that while women devour fashion and beauty magazines this research proves that classic always wins out. We may want to look at the latest fashion icons, but we don't always want to look like them.
"What seems to be important is looking more classic and elegant than casual or urban, which means women are opting for clothes which complement their figure, and make up which suits their complexion and colouring."
The survey indicated while the majority of respondents feel they look perfect with dark smoky eyes, a further one in five prefer a lick of eyeliner with mascara.
Most women opt for natural coloured lipstick or lip gloss to achieve the perfect pout, and foundation is always applied for a smooth complexion.
One third of women feel sexiest with long blonde tresses, while 26% are confident with their own natural coloured hair.
Opinions over perfume (and the amount to apply) vary, but two thirds of women like a discreet splash of their favourite scent, while one in ten prefer a floral flavour and one in 20 like to spritz themselves from head to toe.
Women also like to show off beautiful, bronzed skin, but prefer to have just stepped off a plane rather than be covered with an orange spray tan.
When it comes to nails, women shun bright shades for a more classic French manicure, and prefer longer nails to short.
In addition to liking tight pencil skirts which show off their pins, women like to wear skinny jeans or tailored trousers.
And while a snug fitting t-shirt feels most comfortable, 11% feel best in a cleavage enhancing top, while 16% will always go for a little vest top.
One third of women polled prefer to cover up completely – preferring to leave everything to the imagination.
The survey shows 43% of women prefer looking quite natural where their make-up is concerned, with 84% believing less is more.
But six in ten women feel far sexier when their make-up is on, feeling under-dressed and dowdy without it- not too bad, when achieving a flawless 'natural' look takes within 11 minutes.
Sara Wolverson continued: "This research underlines that women feel their best when they're confident.
"And when it comes to feeling great everyday the perfect look is about clothing, hair and make-up that doesn't make them feel self-conscious.
"There's a time and place for wild and wacky make-up and hair but for the everyday perfect look the classic option is a winner."
The perfect look:
Dark smoky eyes
Natural coloured lipstick / gloss
Foundation and blusher
Long curly blonde hair
Discreet splash of perfume
Post-holiday tan
French manicure
3 inch heels
Pencil skirt
Tight t-shirt
Matching underwear
Legs on show
Classic and elegant