Aalborg - Denmark's gateway to North Jutland's Viking history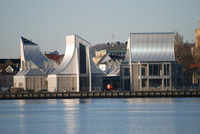 With Viking celebrations scheduled for 2013 and 2014 in both the UK and Denmark to mark the invasion of England by the King of Denmark and subsequent crowning of his son Cnut as the King of England, why not delve deeper into this fascinating history with a short direct flight under two hours to North Jutland's capital Aalborg to discover this delightful region.
A vibrant cosmopolitan city perched on the edge of the glistening Limfjord, Aalborg's Viking history and seafaring beginnings are expertly explored at Lindholm Høje Museum (visitaalborg.com/ln-int/danmark/lindholm-hoje-museum-gdk596168). Just a short excursion from the heart of the city, the Museum marks the remains of a once thriving Iron Age and Viking village with one of the largest and most impressive Viking burial grounds in Scandinavia.
High above the fjord with almost 700 graves carefully laid out in oval and ship-shaped stone settings, the burial site and museum give an enthralling insight into this period and the subsequent archaeological excavations through a combination of meticulously curated displays, interactive exhibits (where you can try sailing a Viking ship or visit a Viking house), craft workshops and specialist videos.
In addition, the Museum's new café, which has stunning views over the ancestral landscape, offers a real taste of life during this time with delicious, locally produced Danish food inspired by ancient Viking recipes and ingredients (visitaalborg.com/ln-int/danmark/lindholm-hoje-cafe-gdk596064). Incorporating story-telling into the menu, visitors can feast on an array of dishes such as baked Tofte forest wild boar with cranberry and fungi, Møffe - long braised pork ham with spices from the Miklagård, Coq au Mead - rooster in mead and Hønsekød soup with peas, herbs, mushrooms and grains, whilst learning more about the culture and customs of this flourishing trading community.
With Aalborg's prime position on the Limfjord eventually taking precedence over Lindholm, the latter became deserted and Aalborg blossomed into the city it is today.
To fully appreciate the influence that the Limfjord has had on Aalborg, wander through the old town with its cobbled lanes to the newly rejuvenated waterfront with the architecturally stunning Utzon Center that impressively shimmers along the water's edge (utzoncenter.dk).

Designed by famous Danish architect Jørn Utzon, who grew up on the Limfjord and was inspired by Aalborg's industry and shipyards, the museum provides an excellent introduction to his architecture as well functioning as an innovative centre for art, architecture and design.
Undoubtedly most famous worldwide for his stunning design of Australia's Sydney Harbour Opera House, the museum is currently hosting a new exhibition 'Australian artists and The Sydney Opera House'. Showing for the first time together in an exhibition outside of Australia until 2 December 2012, it features works by eight of Australia's most important artists, including Ken Done, Brett Whiteley and Bruce Goold, who found inspiration in architecture and geography around this building. (utzoncenter.dk)
Sporting relaxing park areas, an open air swimming pool on the fjord and the city's cultural powerhouse 'Nordkraft' (nordkraft.dk), the waterfront also has plenty of excellent restaurants with the option of dining 'afloat' aboard the former Dutch training ship 'Prinses uliana' (prinsesjuliana.dk/), decommissioned icebreaker ship 'Elbjørn' and the quirky houseboat 'Den Fede Ælling' - The Fat Duck. In addition, it is soon to be graced with a magnificent new 'Musikkens Hus' - House of Music. Due to open at the end of the year and impressively designed by international architectural firm 'Coop Himmelb(l)au', the multifaceted 'Musikkens Hus' will offer world class performances, cultural and educational facilities as well as a selection of public areas to relax and take in the stunning views across to Nørresundby.
Given its prime location and ease of access, Aalborg is also perfectly located for exploring more of North Jutland and its aptly coined 'the Land of Light' (visitaalborg.com/ln-int/aalborg/tourist).
Heading east along some of the regions 1,450 km of pristine coastline, get a feel for coastal life by stopping at one of the many picturesque fishing villages such as Sæby. With its commanding 'Lady of the Sea' sculpture overlooking the small harbour, pretty manicured houses and beautiful Sæby Kirke (church) with its exquisite 16th century frescoes, Dutch Virgin Mary altarpiece and delicate model ships hanging from the ceiling, the town's outward beauty tells the underlying tales of its inhabitants struggle against the forces of nature (visitsaeby.dk/international/en-gb/menu/turist/the-land-of-light.htm).
Further north, towards the picturesque seaport of Skagen, expansive undulating sand dunes mark the start of the 40m high Råbjerg Mile, the largest moving sand drift in Northern Europe. From its formation in the 16th century, it destroyed everything in its path and drastically altered the coastline, wreaking havoc. To learn more about its victims, visit the Skagen Odde Nature Centre (skagen-natur.dk), Skagen's open air By-og Egnsmuseum / skagenbymus.dk) or see it first hand at the site of the buried church - 'Den Tilsandede Kirke'. Other more colourful renditions can be explored at Skagen Museum (skagensmuseum.dk), which houses over 1800 paintings from the late 19th/early 20th century including a selection that depict the fisherman's plight. Then, for a taste of seafaring gastronomy, relax at one of the harbourside 'Thorvald Bindesbøll' fish warehouses tucking into some freshly caught seafood.
Culminating in a visit to Grenen where the two vividly coloured oceans that encircle North Jutland in the far North meet, a return journey along the West coast is equally rewarding.
Following the Marguerite Route, stop into Hirtshals to check out the lighthouse which is still in operation today before heading to the impressive Rubjerg Knude Lighthouse. Succumbing to the sand drifts and no longer operational, it offers sand covered ruins, steep slopes, wind-blown nature and fascinating exhibits on the area in the old Wreck Master's Farm (rubjergknude.dk/engelsk/cover-page/front-page/).
Further South, head back along the Limfjord towards Aalborg enjoying the transformation of scenery (visitlimfjorden.com) - soft salt meadows, idyllic fishing villages, historical landscape and clusters of islands with sheltered inlets. Once the perfect base for Viking life, it is equally, if not more so, enticing today.
Whether searching for undiscovered Viking roots, yearning for some sea-faring history or simply wanting to indulge in some Danish sand, sun and seafood, book the short flight Aalborg and the rest will be plain sailing.
Getting there
Norwegian (norwegian.com) offers three weekly direct flights from Gatwick to Aalborg with flights from £36/person.
For more information on Aalborg go to visitaalborg.com, North Jutland visitnordjylland.dk, and Denmark vistidenmark.com.