Cumbria's 'Muse Cruise' is the vintage to enjoy this Whitsun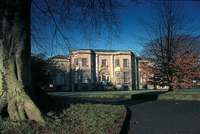 Staycationers rejecting the booze cruise this Whitsun will find other vintage experiences perfectly bottled for their enjoyment, if they take up corking things to do in Cumbria during a 'Muse Cruise'.
The Cumbrian 'Muse Cruise', is being promoted by heritage cluster group, Cumbria's Living Heritage, which comprises 36 different heritage attractions and great house, some 'museums' in the broadest sense.
At Abbot Hall Art Gallery, Kendal, Muse Cruisers can drink in 30 monumental paintings by internationally celebrated Cumbrian artist, Julian Cooper. With works from the 1970s to the present day, the exhibition reflects the artist's travels across the fells and mountains of the Lake District, and also to far-flung places such as South America, Tasmania and the Himalayas, and closer-to-home locations, Italy and the Alps.
Painting workshops form a 'Muse Cruise Lite' experience for children, who can explore texture, perspective and scale, inspired by Cooper's paintings. Drop-in sessions run on May 27 and from May 29 to June 3, between 10.30am and 1.30pm. Children aged over 3 can take part, but must be accompanied by an adult.
In the Museum of Lakeland Life and Industry, on the same site, Muse Cruisers can enjoy a 'Fun on the Fells' exhibition tracing the story of walking and climbing. Naturally, the Lake District is a focus, as the exhibition considers early aristocratic climbers and working-class ramblers and incorporates artefacts on loan from the Fell and Rock Climbing Club.
At Blackwell – Britain's leading Arts and Crafts House, located in Windermere – a site-responsive glass, sound and video installation shimmers and shines for Muse Cruisers wanting to see a fusion of glass-making and digital technology, enriched by video and sound recordings made in and around Blackwell. 'The Light Within' installation, by up-and-coming artists, Beyaert and Miller, is inspired by Baillie Scott's use of light in the architecture of the arts and crafts movement.
Family workshops, which engage through light, colour and reflection experimentation, are the Muse Cruise Lite experience here. Manipulating projections on to walls and ceilings will show how lenses and light combine to produce images, whilst also being great fun. Sessions run from 10.30am to 5pm on Blackwell's May half term schedule and are for accompanied children aged over three.
These are not the only Muse Cruise experiences on offer from Cumbria's Living Heritage. At Brantwood on Coniston, there's a chance to see the work of Chinese artist Fu Zi, whilst at Dove Cottage and the Wordsworth Museum in Grasmere, you can explore the sonnets of the Duddon Valley as you step on stepping stones and feel a touch wall that plays the sounds of the river.
At nearby National Trust Townend, there's a chance to cook recipes from the 17th century in a xxxxx kitchen, between 1.30pm and 4pm on May 25, June 1 and June 8. But if Muse Cruisers really do need that glass of vino, a showcase tour of Beatrix Potter's former home at Hill Top and the Beatrix Potter Gallery, on offer from the National Trust on June 3 between 7pm and 9pm, is just the ticket. It will open up Potter's world to visitors, but also include a complimentary glass of wine – all for just £25, but do book in advance.
Details of all Cumbria's Living Heritage members can be found at cumbriaslivingheritage.co.uk and downloading a Heritage Past-Port there will also introduce you to some quirky facts about all Muse Cruise venues and many more. Happy Muse Cruising!