Find inner peace at the stunning temples of Kyoto in 2017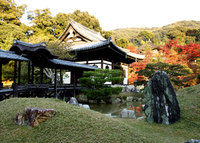 True Japanese culture can be no better expressed than through the sacred temples of Kyoto city. Home to over 1600 Buddhist temples, of which 15 were awarded UNESCO status in 1994, Kyoto is one of the finest destinations in the world to immerse oneself in ancient religious ritual, blissful tranquillity and beauty. The Kyoto Convention and Visitors Bureau is therefore encouraging UK visitors to include a selection of these world heritage sites in travel plans for 2017.
Step Into Paradise At Daigo-ji Temple
For an afternoon submerged in natural charm, the Daigo-ji Temple is one of the finest spots in Japan. A renowned World Heritage Site, this collection of buildings stretches across the Daigo-san Mountain and is well-known as the 'Temple of Flowers'. Since 874, Buddhist monks have contributed to the construction of the various parts of this temple and the five-story pagoda is now the oldest building in Kyoto, having survived the Onin War in 1400. Celebrations of the glorious flora surrounding this temple are held throughout the year, particularly during two of the city's most esteemed periods – the spring blossom and autumn koyo months. For more information, visit kyoto.travel/en/shrine_temple/129.
Revel In Japanese Tradition
Kodai-ji Temple is renowned throughout the country for its beauty. A true example of Kyoto landscape architecture, the site offers afternoons of quiet reflection and stunning walks through the bamboo grove. Views of Kyoto are rewarded to those who reach the top of the hill and the two teahouses on site pay homage to the leading master of the ceremony, Sen-no-Rikyu. Rich in history too, this temple contains the mausoleum of Toyotomi Hideyoshi (1537-1598), the great warlord who unified Japan after centuries of ceaseless warfare. What further sets this monument apart from other great sites in the city is the building's furnishings' intricate lacquer, which is flecked with glistening gold flakes. For more information, visit kyoto.travel/en/shrine_temple/157.
Awaken The Senses At Taizou-in Temple
Known for its two charming gardens, this small temple can be found within the sprawling grounds of Myoshin-ji Temple. Inside, visitors are treated to a glimpse of one of Japan's oldest surviving ink paintings and a special wash basin, into which water drops echo in a hidden underground chamber. – making for a thoroughly mysterious Zen experience. What is more, guests here can take the opportunity to practise traditional Zen-inspired arts such as calligraphy or meditation, as well as partake in a tea ceremony, for a truly unforgettable experience. For more information, visit taizoin.com/en/.
Pray For Prosperity At Kiyomizu-dera Temple
Perhaps for its breath-taking views, Kiyomizu-dera Temple is one of the most popular in Kyoto. Visitors and locals alike pay homage to the World Heritage Site to not only admire the sunset from the veranda but to also drink from the gushing spills of the Otowa Waterfall and pray for a romantic match in the Jishu-jinja shrine. The pure water here has long been named 'Enmei-sui' (life-prolonging water) and is drunk in a bid to improve one's health and achievement. Furthermore, visitors hopeful of finding true love are often found walking the path between two stones with their eyes closed, since ancient tale suggests those who find the way successfully will come to good fortune romantically. For more information, visit kyoto.travel/en/shrine_temple/131.
For more information on Kyoto, visit kyoto.travel/en.