Vauxhall launches UK's fastest & most powerful sub-£30k car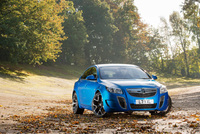 Vauxhall has released a high-performance replacement for the 325PS Insignia VXR that achieves 170mph – 15mph more than its predecessor – yet costs £3,760 less than the outgoing car at £29,995.

Called the Insignia VXR SuperSport, the new car produces more power and achieves a higher top speed than any other UK production car costing less than £30,000, including market newcomers like the BMW 135i M Sport.

With no speed-limiter, the SuperSport realises the Insignia VXR's true performance potential, while visual identifiers like blue 'Brembo' lettering on its front brake callipers and additional increments on its speedometer offer subtle hints about the car's giant-slaying intent.

But the SuperSport isn't the first Vauxhall to set speed benchmarks. More than a century ago, Vauxhall launched Britain's first sports car, the C10 'Prince Henry', quickly followed by the UK's first 100mph production car, the iconic 30-98. Vauxhall's engineers even provided customers with a certificate to guarantee that the car had been tested at the 'ton' on the fearsome Brooklands circuit in Weybridge.

Interestingly, Vauxhall's performance philosophy for the 30-98 was summed up as 'Superexcellent', making the SuperSport name a fitting nod to the past.

The tradition continued post-war, with the legendary Lotus Carlton becoming the world's fastest production saloon car in 1989, with a top speed of 176mph. And even in the current line-up, the VXR Maloo is the country's fastest, officially-imported light commercial vehicle, with a 0-60mph time of 4.9 seconds and a top speed of 155mph.

With its new-found performance potential, the Insignia's adaptive all-wheel-drive chassis has never been put to better use. Fitted with Vauxhall's HiPerStrut front suspension, which maintains negative camber, improving grip levels in wet and dry, the SuperSport's handling is safe and rewarding for enthusiast drivers. FlexRide, Vauxhall's adaptive damping system, is also standard, and comes with a VXR setting for enhanced controllability at higher speeds.

At the heart of the VXR SuperSport is Vauxhall's 2.8-litre V6 Turbo ECOTEC engine, with a micro-alloy forged steel crank, classic 60-degree cylinder angle and die-cast alloy sump – all features found in many a race engine. Producing 325PS, the engine uses a single, twin-scroll turbocharger and variable valve control for quick throttle response, and accelerates from 0-60mph in 5.6 seconds.

Like all new Vauxhall passenger cars, the Insignia VXR SuperSport comes with Lifetime Warranty and is available to order now through Vauxhall's approved VXR dealers.