North Jutland, Denmark's 'Land of Light' shines brightly for Christmas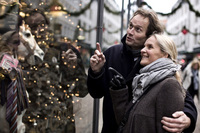 North Jutland, Denmark's most northerly region, known for its wonderful natural light - said to lift the spirits and awaken the senses - is lavishly illuminated at this time of year by thousands upon thousands of bright, festive lights strung through villages and towns in celebration of Christmas.
Known to the Danes as the Festival of Hearts, the Christmas period is a wonderful time to visit North Jutland and with its capital, Aalborg, being less than two hours' flying time from the UK.
As Denmark's fourth-largest city, Aalborg is perfectly placed for an atmospheric seasonal escape, with a vibrant, big-city ambiance that quite belies its small-town stature. During the Christmas period, its charming cobbled streets, boutique shops, lively nightlife and cultural attractions are enhanced by a fine traditional Christmas market. Opening on 23 November 2012, the Christmas market features all the sights, smells and tastes of the season, such as delicious æbleskiver and pepper cookies, alongside street entertainers, decorated Christmas trees and wooden cabins offering an enormous selection of crafts, gifts and Yuletide treats to the throng of festive shoppers (visitaalborg.com).
A particular highlight, especially for children, is the annual appearance of Santa Claus, who traditionally visits the market on the day after it opens each year. After a long journey from Greenland (or so the story goes), Santa's ship docks in Aalborg Harbour, much to the delight of the families awaiting his arrival on the shore. This magical event effectively kick-starts Aalborg's Christmas festivities, with the lighting of the Christmas tree, and is a one-of-a-kind experience that younger members of the family will love.
Elsewhere in town - all lit up in their Christmas finery - Aalborg's pretty, cobbled traffic-free streets offer an enticing array of cafes and shops, ideal for picking up well-designed Scandinavian homewares, Holmegaard glassware and Marimekko fabrics. And at the end of a day's shopping, Aalborg's lively and unpretentious bar scene provides a fun and atmospheric place to stave off the winter chills by joining the locals to indulge in a shot or two of Christmas Aquavit, the locally produced schnapps.
North Jutland's appeal doesn't just lie in Aalborg's attractions. Thanks to its compact nature, it's all too easy to get out of town, discover the beauty of rural Denmark and Christmas in the countryside.
Step back in time to the Middle Ages and the oldest Monastery in Scandinavia at Børglum Abbey. Set high on a hill with views out towards the Limfjord, Christmas is the perfect time to wander around the atmospheric 18th century cloisters, beautifully adorned church, old mill and Børglum's private rooms which are opened to the public and filled with more than 30 stands selling Christmas treats, decorations and souvenirs from 23 - 25 November and 8 - 9 December. (boerglumkloster.dk/uk/discover-history/)
For more medieval magic, head to the haunted 16th century Voergaard Castle. Leaving the ghosts behind at Christmas, the heavy doors of the castle open up into a new world, where the grand halls are adorned with magnificent decorations creating an enchanting feeling of woodland mystique and medieval monastery ambience. Large Christmas trees glow with golden lights as fantastical floral decorations add to the sensory fusion of music, colour and smell. Complemented by an excellent collection of stalls and workshops throughout the castle's banqueting hall, cellars and courtyard from 7 - 9 December, it sets the scene for a truly regal Christmas. (voergaardslot.dk/english/)
Heading along the coast with its pristine and breath-taking stretches of untouched beach, the picturesque fishing village of Skagen in the North is literally angelic at Christmas time. With the streets and buildings adorned with exquisitely decorative angels in all shapes and forms, its captivating Christmas spirit can be enjoyed wandering through the lovely old-fashioned Christmas market or listening to the sounds of angels echoing through the beautiful Church of Skagen. (skagen-tourist.dk)

To take an historic look at the area, through the eyes for the many famous 19th century painters who were attracted to the region by its unique light, visit the Skagens Museum (skagensmuseum.dk). Open daily until the end of December (excluding Mondays and the week before Christmas), the museum contains an extensive collection of more than 1,800 paintings and artworks depicting life in the surrounding area, both in wintery skies and balmier times of year.
And for those who fancy a freshening break to work off some of those Christmas calories, Skagen in January, in addition to brisk windswept beach walks to blow away the cobwebs, offers the annual invigorating Winter Swimming Festival. Definitely for the hardy, winter bathers test the waters from 26 - 29 January with ice chilling dips in the waves at Sønderstrand near Grenen, followed by a warming recovery in huge fire heated tepees with a cup of piping hot soup. A few days earlier on 22 January, Skagen will also be marking its 600th anniversary with numerous celebrations on the day extending into 2013. (skagen2013.dk/oversigt-arrangementer/)
For a memorable festive escape filled with Scandinavian character and flair, North Jutland is hard to beat. And with easy access with low-cost carrier Norwegian (norwegian.com/en), which flies direct from London Gatwick to Aalborg from £36 one-way, it's easy and affordable to get there.