Unique SKYACTIV technology gives all-new Mazda6 an RV boost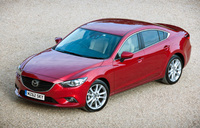 Residual value forecasts for the all-new Mazda6 put the model comfortably ahead of those for key fleet competitors.

The figures from experts at CAP Monitor (November 2012) will be welcomed by fleet decision-makers, who will also be buoyed by the tax-efficiency and fuel economy of the Mazda6 thanks to breakthrough SKYACTIV Technology featured in Mazda's new upper medium sector contender.

The all-new Mazda6, which goes on UK sale in January 2013 in Saloon and Tourer body styles, has been given a three-year/60,000-mile residual value uplift of up to 7.5 percent versus the outgoing model, according to data from vehicle information provider CAP.

Major MPG and CO2 emission improvements across the all-new Mazda6 range due to SKYACTIV Technology have contributed to the residual value enhancements.

Residual value predictions for the Mazda6 petrol-engined Saloon range average 31.8 percent, the petrol-engined Tourer 33 percent, the diesel-engined Saloon 31.6 percent and the diesel-engined Tourer 32.7 percent.

Those forecasts, according to CAP, put the new Mazda6 comfortably ahead in the residual value stakes against the likes of the Vauxhall Insignia (average 23 percent), Ford Mondeo (28 percent), Volkswagen Passat (29 percent), Honda Accord (30 percent) and Toyota Avensis (31 percent).

Mazda forecasts that its biggest fleet seller in the range will be the 2.2-litre 150ps SKYACTIV-D Saloon SE-L Nav with a P11D value of £23,140, CO2 emissions at a class-leading 108g/km and combined cycle fuel economy of 67.3mpg. CAP predicts that the model will have a three-year/60,000-mile residual value of £7,475 (32 percent).

In-depth analysis reveals that over three-years/60,000 miles the anticipated best-selling model in the new Mazda6 range will depreciate by £15,665 which means it is a better choice for fleet operators than rivals such as the BMW 320d, Audi A4, Toyota Avensis, Honda Accord and Vauxhall Insignia.
The top-selling diesel Tourer in the all-new Mazda6 range is predicted to be the 2.2-litre 150ps SE-L Nav, which has CO2 emissions of 116g/km and combined cycle fuel economy of 64.2mpg. The model, with a P11D value of £23,890, is forecast to have a residual value of £7,975 (33 percent) at three years/60,000 miles.

Jeff Knight, Editor of Monitor, CAP's residual value forecast guide, said: "The all-new Mazda6 is a large car with a striking road presence, with excellent cabin space for front and rear passengers.

"Key from a fleet perspective is emissions; like the recently launched Mazda CX-5 the Mazda6 has been built around the manufacturer's SKYACTIV Technology. This enables the 150ps diesel engine to deliver a CO2 figure for the Saloon of 108g/km placing it at least one company car benefit-in-kind tax band below virtually all the competition.

"However, CO2 emission performance and MPG is also critical for the used car market in respect of petrol engine cars, as buyers have a greater affinity to such models than the fleet market hence the greater residual value uplift.

"Together with high levels of specification, a more premium interior and excellent future residual values, the all-new Mazda6 should win a place at the front and centre of company car choice lists."

Mazda Head of Fleet Steve Tomlinson said: "Residual value forecasts for the all-new Mazda6 put the model ahead of key rivals from volume marques and enables the car to close in on premium badge models, which is what we hoped.

"Given the competitive pricing of the Mazda6 and the fact that on a model-for-model basis it beats key rivals in terms of price, MPG, CO2 emissions, standard specification and power, we anticipate strong residual values to be another vital attraction to fleet operators.

"Total cost of ownership is a key barometer for fleet chiefs in making their company car decisions and the forecasted first class all-new Mazda6 residual values, which make-up a large percentage of a model's overall whole life cost figure, will contribute to triggering significant sales."