Infiniti Centre Hull opens up for business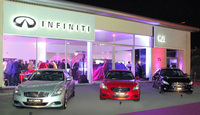 The Infiniti Centre in Hull is now officially open and to mark the occasion a celebratory evening took place at the redeveloped site.

Over 170 guests turned up to witness the event with guest speakers from Infiniti and the owners of the Humberside Motor Group taking the opportunity to mark this major milestone of welcoming the premium automotive brand from Japan into the area.

The wow effect of the purple illuminated walkway carpet leading into the new Infiniti Centre was continued inside with an enticing display of not only Infiniti vehicles and merchandise but also some top class products from local area suppliers.

The most notable display was a Red Bull F1 RB7 race car from the 2011 season which sat alongside one of only five existing prototypes of the special V8 5 litre Infiniti FX Vettel Edition. Sebastian Vettel's approved FX sprang into life just as the purple cover was pulled back during the reveal. The sound of the V8 burble seemed to have met with the approval of the enthusiastic audience, and rightly so, with only fifty examples of this impressive vehicle coming to Western Europe it will be a very rare car to both see and hear.

Stephen Smith MD of Infiniti Centre Hull commented: "I couldn't have hoped for a better event to celebrate the opening of this new showroom facility. Many of our current SAAB customers that attended on the night have been with us for a long time, some as long as thirty years. With Infiniti's dedication to customer service and our own devotion to provide everyone with the best possible hospitality I hope this relationship will continue for many more years to come."

There were displays from local businesses such as James Mackenzie from the Michelin Star rated Pipe and Glass Inn who was presenting signed copies of his new recipe book as well as providing a mouth watering range of canapes. Also with a fine display of Rolex watches and contemporary jewels was the local Jeweller George Hewitt and Son.

The night was completed with an amazing firework display just outside of the Infiniti Centre which lit up the clear but purple illuminated night sky.

For more information, visit infiniti-hull.co.uk.

Other Infiniti Centres are based in Reading, Glasgow, Leeds, Stockport, Birmingham and 77 Piccadilly, London.