Christmas markets in Denmark's provinces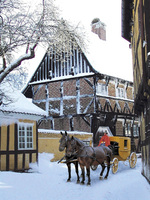 Denmark's crisp Christmas air is illuminated by thousands of white lights when the many traditional Christmas markets open their doors to a new season of yuletide festivities all over the country. Experience the merry holidays in the magical country of Denmark and enjoy some Christmas shopping at one of the historic Christmas markets, all just a short plane trip from the UK.
Aarhus
Denmark's second largest city, Aarhus, is the perfect starting point for a seasonal escape. Step back in time and discover the joys of an old fashioned Danish Christmas of the early 1900's with a visit to Den Gamle By - The Old Town. The open-air museum comprising some 75 authentic Danish buildings from all over the country, creates a feeling of living history with period costumed staff re-enacting a bygone era. During December, Den Gamle By will host a magical Christmas market with decorations, gifts and culinary delights from November 17 and throughout December (dengamleby.dk).
The indoor Aarhus Christmas Market inside the atmospheric old Equestrian Hall is the perfect place to stave off the winter chills. With more than 100 stalls offering beautiful hand-made crafts and artwork, festive decorations and delicious Christmas treats, Aarhus Christmas Market is sure to kick-start your Christmas spirit. We recommend topping off the festivities with a spectacular view of Aarhus from 'Your Rainbow Panorama', the famous rooftop walkway by artist Olafur Eliasson atop ARoS Art Museum (en.aros.dk). Besides its internationally celebrated collection of paintings, sculptures and installations, ARoS also presents the highly distinguished Edvard Munch exhibition, "Anxiety", until February 17.
Odense
In the capital city of the island of Funen, you are greeted by an authentic Christmas fairytale. Once the hometown of the world's most famous fairytale writer Hans Christian Andersen, Odense hosts an enchanting Christmas Fair with stalls dotted throughout the streets near the author's home and museum, offering everything from steaming hot chocolate and mouth-watering Christmas snacks to beautifully hand-made gifts (hcajulemarkedet.dk). For more information on Christmas in Odense please go to: visitodense.com.
Kolding
One of East Jutland's most enduring destinations is the medieval town of Kolding, where Christmas is celebrated in style at the remarkable royal castle of Koldinghus (koldinghus.dk). The grand halls of Koldinghus will be adorned with delightful Christmas decorations heightening the medieval magic when they host an array of festive Christmas events all through the month of December. Visit the atmospheric Christmas market (8-9 December), find a unique Christmas present in the well-assorted museum shop, enjoy a Christmas concert and end the tour with a traditional Danish Christmas meal in the castle's candlelit café.
Vejle
The lovely town of Vejle is also buzzing with Christmas activities throughout December. Handcrafted Christmas presents, beautiful Christmas decorations and delicious Danish yuletide delights are on offer at Hopballe Mill's Christmas market (hopballe.dk) every weekend in December. Try out local specialities such as pepper cookies, æbleskiver and gløgg (pancake balls with sugar and jam and Danish mulled wine) whilst picking up some wonderful presents including exquisitely handcrafted ceramics, glassware and jewellery.
For a memorable Christmas getaway, Denmark's frosty December air, magical Christmas markets and Scandinavian coolness is hard to beat!
Getting there...
Nearest airport for the destinations above are Billund and Aarhus airport served from the UK by Ryanair, making it both easy and affordable to plan a route. With flight times well under two hours, it will not take you long to experience the run up to Christmas the Danish way: ryanair.com
DFDS Seaways offers a regular ferry service of overnight departures between Harwich and Esbjerg in West Jutland - dfdsseaways.co.uk.