Troops rally together with less than 50 days until Dakar Challenge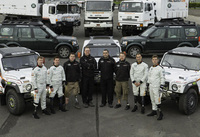 Race2Recovery, the group of predominantly injured soldiers aiming to become the first disabled team to complete the gruelling Dakar Rally, today visited Tedworth House Personnel Recovery Centre (PRC) in Tidworth, Wiltshire, bringing together the whole race team and its array of race and support vehicles for one final time before the fleet is shipped out to South America.

With less than 50 days to go until the start of their 2013 Dakar Rally challenge, Race2Recovery has already raised £100,000 for Tedworth House and is committed to continuing this fundraising drive.

The team spoke about their excitement and anticipation ahead of the race. They were also on-hand to demonstrate their race vehicles, including Land-Rover based Wildcats, 4x4 race support truck and huge 8x8 service area support trucks, which they have been working on day-and-night in order to have them fully prepared ahead of their shipping to South America on Thursday (22nd November). Their adventure is being made possible by support from Land Rover and the Endeavour Fund set-up by The Royal Foundation of The Duke and Duchess of Cambridge and Prince Harry.

Earlier in the day, the team had visited Thruxton Circuit, located seven miles from Tedworth PRC, where they took part in a photo shoot at the famous race track.

The team, whose motto is 'beyond injury – achieving the extraordinary', consists of people from all backgrounds and walks of life: injured servicemen, former soldiers, sailors and airmen, and generous people with no military background who have given their time and commitment to the endeavour.

Based in Tidworth, Wiltshire, Tedworth House is one of six Personnel Recovery Centres that have been established as part of the Defence Recovery Capability. The Defence Recovery Capability is an MOD-led initiative in partnership with Help for Heroes and The Royal British Legion to ensure wounded, injured and sick servicemen and women have access to the key resources they need as they recover.

Captain Tony Harris, 31, one of Race2Recovery's rally drivers who is a below the knee amputee as a result of injuries suffered while serving in Afghanistan, said: "I'm delighted that Race2Recovery is able to come together as a full team one last time before we wave goodbye to our vehicles when we ship them to South America for January's Dakar Rally. I'm particularly pleased that we're able to celebrate here at Tedworth House Personnel Recovery Centre, which has been the recipient of our ongoing fundraising activity. We're very proud to have raised over £100,000 to date and we hope that our continued efforts as a successful rally-raid team will continue to see donations increase, directly benefitting our country's injured servicemen and women."

Team navigator Corporal Tom Neathway, 28, who lost both legs and his left arm as the result of a booby trap explosion when serving in Afghanistan, said: "It's great to come together as a team to celebrate the fact that, in only 18 months, we have established a highly capable rally raid team and that we're set to race in our ultimate goal, the 2013 Dakar Rally. We really believe in our motto, Beyond Injury – Achieving The Extraordinary, and I really feel that Race2Recovery can show people that, despite facing adversity, illness or injury, it's still possible to do great things. The whole focus of our Race2Recovery project has been about the team's abilities, rather than disabilities, and I hope this is a message that we can communicate to people who may find themselves in similar situations to myself or other members of the team."

One of the civilian members of the team is Frenchwoman Cathy Derousseaux who, whilst only 24, has already established a career as a professional rally co-driver. Cathy, goddaughter to Dakar legend and three-time winner Pierre Lartigue, competed in the Africa Eco-Race and is a two-time winner of the French Women's Rally Championship. She said: "It's an honour to be part of such a fantastic project and to race as part of a truly inspirational team. I'm pleased that I can bring my rallying experience to the team but I'm also very aware that the Race2Recovery team, in a very short space of time, has become a strong and skilled outfit in its own right. We're determined to complete the Dakar and I have full faith in both the race and support crews that we can achieve our goal. We're also over the moon that the campaign continues to raise money through its charity fundraising which is benefitting Tedworth House Personnel Recovery Centre."

On 7th November it was announced that Race2Recovery had been awarded the first ever grant from the Endeavour Fund, set up by The Royal Foundation of The Duke and Duchess of Cambridge and Prince Harry. The Endeavour Fund has been created by The Royal Foundation to enable more wounded and injured servicemen and women to take part in expeditions and sporting challenges as part of their recovery. The Fund will offer seed funding for new endeavours and will help emerging initiatives with advice, hands-on support and mentoring.

People wishing to find out more about Race2Recovery, make a donation to the fundraising campaign, or become a sponsor of the team should visit race2recovery.com.