Design gurus shortlist Cheshire eco-mansion for two awards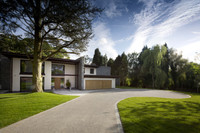 A judging panel that includes esteemed designers and architects Sir Terence Conran, Wayne Hemingway MBE, George Clarke and designer Linda Barker has shortlisted a new eco-mansion in the prestigious village of Prestbury, in Cheshire, for two coveted Design Awards.
Sleepy Hollow, a 10,000 sq ft home off Castle Hill, has been shortlisted in two categories - Best Innovative Design and Best Luxury Property – In the annual Northern Design Awards.
Praised by local residents as 'exciting and innovative', Sleepy Hollow, was designed and built by Hillcrest Homes in partnership with Wilmslow based architecture and design practice, The Cave and is currently for sale through Savills Wilmslow.
The property offers three layers of innovative and luxuriously finished accommodation in a private one-acre tree lined plot and has been designed to be innately eco-friendly with additional energy efficiencies provided by proven renewable technology, such as photovoltaics, air source heating and rainwater harvesting.
Hillcrest's development of eleven detached and semi-detached homes in West Didsbury, called The Square, has also been shortlisted for the 'Best Family New Build' Award.

The Northern Design Awards bring together designers, retailers and property developers in a glittering celebration of Northern design and style. Winners will be announced by host, Wayne Hemingway MBE, at the ceremony held at Manchester Central on Friday 30 November 2012.
For further information on Sleepy Hollow or to arrange a viewing, visit savills.co.uk. For more information on Hillcrest Homes, visit hillcresthomes.co.uk.