Walking wonderland in the Bavarian Forest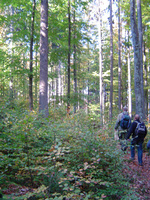 With walks in every direction, from gentle to strenuous, and many in 2 countries (Germany and Czech Republic), the Bavarian Forest has long been a walking destination par excellence for German walkers but a well kept secret for foreigners.
With 6 different collections of English language descriptions of local walks, Bavarian Forest Holidays have opened up this beautiful destination to English speaking walkers.
Alongside the popular walks to lunch or the famous German coffee and cake (12 restaurants outside the centre of the village can be reached on foot) or 9 baby friendly walks in the forest which can be tackled with a buggy (several are on free loan from Bavarian Forest Holidays) and 2 more using the local train service (free to registered guests), there are also longer hikes, local walks for the less than fighting fit, winter walks which are cleared for walking in snow or sturdy shoes as well as walks to give a real flavour of the local towns in Germany, Austria and Czech Republic.
Accommodation-only costs start at €455 for 2 people in a week in a 5 star apartment (final cleaning, tourist tax and free use of local buses and trains included).
For more information, visit bavarian-forest-holidays.com