Wintertime in Frankfurt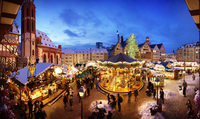 Culinary highlights may be found at virtually every turn during the Frankfurt Christmas Market, which starts on 26th November. The offer spectrum of the market's many stalls ranges from international delicacies to traditional Frankfurt specialities. Fans of old-style Christmas markets should make sure to try a "Bethmännchen" marzipan candy and a cup or two of hot apple wine.
The goings-on at the city's many theatres and churches are equally festive during the Advent season. Holiday events to be held at Alte Oper include two Christmas concerts on 16th and 17th December as well as family showings of "Hänsel and Gretel" from 19th to 22nd December. On the Sunday before Christmas Eve, young opera fans have a special Christmas concert for children to look forward to at Oper Frankfurt. The parish office of Emperors' Cathedral has also put together a multifaceted musical and liturgical programme for the holidays, while daily Christmas concerts will be performed at the Church of our Lady every day at 7:30 pm from 01st to 22nd December.
The quiet and contemplative Christmas period traditionally comes to an end with the festive turn of the year. One particularly appropriate way for gourmets to end the year is with a visit of the Tigerpalast. Here, head chef Andreas Krolik serves his guests a first-rate New Year's Eve menu, which is available as a three-course, five-course and vegetarian version. Having been awarded 17 Gault-Millau points in the current issue of the gourmet guide of the same name, Krolik ranks amongst the state's very best chefs. Diners are served refined combinations not only on their plates, but also on stage. The world-renowned artists of the theatre's variety revue bedazzle their audiences with their breathtaking performances once dinner has been served.
Lovers of classical music have the chance to celebrate the turn of the year with the traditional 1822 New Year's Concert, taking place on 13th January 2013. Commemorating the 200th anniversary of the Battle of the Nations, the Young German Philharmonic Orchestra has chosen to focus its musical efforts on the period ending Napoleon Bonaparte's reign. To interpret this significant historical event, orchestra director Jonathan Stockhammer has selected pieces by Ludwig van Beethoven, Franz Liszt, Pyotr Ilyich Tchaikovsky and Zoltán Kodály. Alexander Schimpf has been engaged as soloist for the Liszt piano concert.
During the days of Advent and at the end of the year, but especially after the exhausting New Year's festivities, people are often moved to treat their party-maligned bodies to some special care. Frankfurt's top-class hotels have just the thing, inviting guests to a reinvigorating stay at their in-house health spas. Villa Kennedy Spa, for example, offers "patients" special sepia treatments for skin rejuvenation, tried and tested by Hollywood A-listers such as Eva Longoria and Angelina Jolie. Treatments for children and men are also available. The Lindner Hotel & Residence Main Plaza spoils those seeking recuperation with an exclusive first-class spa and wellness club. Consisting of a swimming pool, steam bath, Finnish sauna, laconium, sanarium, plunge pool and resting area, the club also offers relaxing massage treatments. The emotion spa at Hotel Westin Grand, meanwhile, is known to be the ideal place to unwind. Ayurvedic massages using heated oils and other treatments like those using warm black basalt stones help guests achieve states of deepest possible relaxation.
With all of these special offers and opportunities, there is no doubt that a visit of the Main metropolis during wintertime is absolutely worth your while.
For more information, visit frankfurt-tourismus.de.