Chevrolet's bowtie cuts a dash!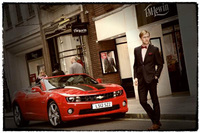 Always the height of sartorial elegance and with an undeniable air of prestige, the bowtie is 'back' in fashion circles. Worn by leaders and trend setters, it offers the wearer something a little different. Carmaker Chevrolet, whose company logo is referred to as the Chevrolet bowtie, couldn't agree more.

Fastidious and a touch daring, the bowtie has leapt back to fashion with hipsters and rappers alike. Never a fringe player, with origins dating back to the 17th century, bowties are now hot with American college-types and Hoxton fogey attention-getters who are pairing them in a contemporary way with slim-cut tweeds, cardigans, V-necked sweaters and razor-sharp brogues.

At Chevrolet, its golden bowtie emblem has taken pride of place on the front of every Chevrolet since 1913 and will celebrate its centenary in 2013. Chevrolet's co-founder, William C. Durant, was looking for a new way to brand his car when he found the perfect symbol in fashion, the iconic Chevrolet bowtie, and copied the design from the wallpaper of a Paris hotel.

Another explanation attributes the design's origins to a stylized version of the cross of the Swiss flag. The carmaker's other co-founder, Louis Chevrolet, was born in the Swiss city of La Chaux-de-Fonds on Christmas Day, 1878.

Whichever history tale it is, Chevrolet's golden bowtie has become a globally recognized super brand, appearing billions of times over the past 100 years on cars, advertisements and sales literature. A century after its very first appearance, the golden bow tie is as legendary as the Chevrolet cars it appears on.

"Look for this nameplate," the first Chevrolet ad proclaimed above the emblem in 1913 – and customers the world over have been doing so ever since! In 2012, a new Chevrolet was purchased somewhere in the world every 6.5 seconds.

Unconventional style

"William Durant certainly chose a memorable emblem to symbolize his brand," says Geoff Quinn, CEO of T.M.Lewin, one of the world's most established tailors and shirt makers. "There's no doubt – a bowtie is there to be noticed."

Established in 1898 in London's historic Jermyn Street, T.M.Lewin, like Chevrolet, boasts a rich heritage with a long history of tie design and manufacture.

"In my experience, bowties tend to be worn by individuals with an air of confidence," says Quinn. "The bowtie can be the perfect accessory for people who like to stand out from the crowd and make a statement. Someone asked me just the other day, 'Are bowties back in fashion?' to which I responded that I hadn't realized they had ever gone out of fashion!"

The bowtie resurgence is seeing a more unconventional style emerging, as their owners are mixing up their look to have some fun and create the ultimate individual look with bowties made from textural fabrics, like suiting wools, hopsack and even denim.

"Tying the perfect bowtie takes practice," T.M.Lewin CEO Geoff Quinn points out. "An authentic bowtie should never be absolutely symmetrical. It's the knot that determines the size of the bowtie and this should never look too perfect. The perfect bowtie needs to be sufficiently off-kilter to establish its authenticity. When it comes to color and fabric design, daytime bowties should be allowed to make a confident statement, while plain black or white is an elegant choice for evening tie," says Quinn.

How to pair a bowtie

Joining the Chevrolet bowtie centenary celebrations, T.M.Lewin's in-house design team has compiled an exclusive guide on how to incorporate a bowtie with your existing wardrobe. They've also devised a handy 'How to' step-by-step guide on the art of tying the perfect bowtie – and there are many options to choose from!

Formalwear – Black Is Back: A slim bow looks great with a slim-fit or Italian cut suit and a grosgrain fabric can give your finished look a more contemporary vibe.

Break It Down: Many of today's office environments accommodate 'dress down' styles and the easiest way to dress down a bowtie is to not wear a suit jacket or blazer. Pair it with a cardigan, jumper or even a leather jacket and jeans.

Earn Your Stripes: Create a muted look with your bowtie by color matching it to the rest of your outfit. For example, a blue and gold shirt matched with blue or gold bowtie.