Ready for winter? SsangYong is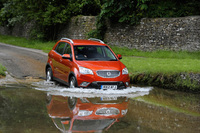 We Brits have a bit of a thing about the weather, none more so than during the winter when how cold, wet, windy or snowy it is becomes a hot topic of conversation.
Winter driving is also vigorously debated. How badly everyone else drives through flood water, how it's the Government's fault the roads aren't properly gritted, and the annual 'worst pot hole' competition gets under way.

At SsangYong, we're rather more pragmatic, and while not condoning the state of Britain's roads, we prefer to do something about it by equipping our customers with a well-engineered vehicle that is fit for the road - or off it! - whatever the weather.

Every Korando crossover, Korando Sports pick-up and Rexton comes equipped with all season tyres to give optimum grip regardless of the weather or road conditions. SsangYong equips these cars with Kumho Solus KL21 ECO all season tyres which have been specifically developed for premium crossover/SUV vehicles. It is a contemporary all-season tyre whose durable construction and tread pattern ensure high levels of wet and dry weather traction and ride comfort, as well as good wear performance.

Every car in the SsangYong range is available with four wheel drive

The Korando SX, CSX commercial and EX feature a Torque on Demand four wheel drive system which constantly monitors the level of grip available and distributes power to the wheels that need it most. Under normal driving conditions the engine's torque is directed to the front wheels so the car runs with the efficiency of a family hatchback. However, if the front tyres begin to lose traction, power is automatically fed to the rear wheels to ensure safe, stable and dependable progress is maintained with grip from all four wheels. An all-wheel drive lock mode is also provided to ensure a 50/50 spread of torque between the front and rear wheels at speeds up to 25mph, essential for when low speed traction and control is needed.

The Korando Sports pick-up, Rexton and Rodius EX are equipped with a switchable four wheel drive system to ensure excellent off road capability, and also feature a low ratio transfer box to deal with the most extreme loads, inclines and surfaces. Perfect for both towing and tackling wintry conditions, the 4x4 system utilises SsangYong's years of experience to deliver ultimate traction whatever the conditions.

5 year limitless mileage warranty

All models in the SsangYong range are covered by a best-in-class 5 year limitless mileage warranty.

Designed to be totally transparent and give customers complete peace of mind, 'limitless' means just that: not a maximum mileage condition that some brands impose in their small print.

All the major mechanical components are covered including wheel bearings, suspension joints and bushes, steering joints, shock absorbers and even the audio system. Wearable components such as clutch discs and brake friction materials which could have their life reduced by poor driving are covered for one year or 12,000 miles, and the battery and paintwork for three years.

SsangYong's top tips for winter driving
Visibility - keep your windows clean and clear, inside and out. Demist thoroughly. Defrost any ice and snow from all windows and remove any accumulations from the roof and bonnet before setting off
Tyres - make sure your car is fitted with the right tyres, they have ample tread depth and are correctly inflated
Lights - keep your lights clean and replace any faulty bulbs immediately
Number plates - keep clean and clear of snow to ensure maximum reflection in the dark
Speed - reduce your speed especially when dark, driving through floods and when the temperature drops below 4 degree C
Distance - increase the braking distance between you and the car in front when it's wet or icy

Further information is available from ssangyonggb.co.uk.