Madrid-Lisbon mountain bike tour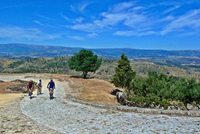 About thirty adventurers took part in the first edition of the Madrid-Lisbon mountain bike tour (Madrid-Lisbon MTBike): some rode the week the tour crossed Spain, others rode a few stages in Portugal. But this year only two men rode the complete route of 1200km: João Baptista and António Gavinho, the brains behind this fabulous mountain bike route.
This is one of the biggest mountain biking adventures in Europe! A journey, a traverse, an adventure. Two countries, two capitals and 15 mountains between the two!
The whole tour route between Madrid and Lisbon covers 1200km and climbs almost 28000m of accumulated climbing – this is a unique and fantastic route for mountain biking: following tracks, trails and medieval roads; crossing valleys and climbing mountains; passing through towns and villages; letting the rider discover countryside and traditions during 15 intense days. But, this is also a huge challenge, given how tough the route is. Each day the ride is about 80km, with 2000m accumulated climbing.
The tour started in Madrid, in the emblematic Plaza del Sol, right at the center of the Iberian Peninsula, and at the marker indicating kilometer zero for all the roads leaving Madrid. The tour crosses the central Iberian mountain range in Spain, and the Montejunto-Estrela mountain range which crosses Portugal from the north-east to south-west. The final stage is a real treat for participants, riding on the cliff tops above the Atlantic Ocean, all the way to the most westerly point of the European continent – "Roca Cape" – where this amazing adventure ends!
Dates are already fixed for next year's edition – 8 to 22 June 2013. Registration is already open, and you can already reserve your place, to guarantee your place on this unique adventure. Don't miss your chance as the tour is limited to 20 participants.
The tour is organized by Portugal Nature Trails (portugalnaturetrails.com) and is supported by the Tourist Boards of Portugal, the Central and Western Regions of Portugal and by the Tourist Board of Extremadura in Spain as well the companies TREK, Zip-Vit and Tangerina Bike Shop.
For further details and more information about this fantastic tour, visit bikemadridlisbon.com.