Hell Bay, Bryher - Archaeology, food foraging and wildlife spotting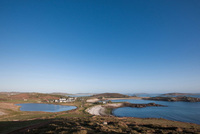 The handsome Hell Bay hotel on Bryher in The Scillies has announced the 2013 dates for three very unique packages. From exploring the ancient sites of the islands to wild food foraging with expert Rachel Lambert and wildlife spotting - something for everyone!
An Archaeologist's view of The Scillies
Dates: 15 - 19 March, 7 - 11 Oct
Keen explorers of the ancient world should head to Hell Bay in the Isles of Scilly for a new Archaeology Break lead by resident expert, Katharine Sawyer. The Scillies have a greater density of ancient sites than anywhere else in the British Isles, making for 4 full days of unique discovery. Eager adventurers will have the chance to visit King Charles's and Cromwell's Castles, prehistoric field boundaries, post-mediaeval cottages, a Bronze Age and Iron Age settlement, as well as the extraordinary Scillonian entrance graves and cists that Katherine is personally researching for her PhD. These are just a few of the interesting places you'll visit to expose the histories and past cultures of these fascinating islands.
Prices start from £730 pp, including return travel from Penzance, 4 nights' dinner, bed & breakfast, all boat trips and entrance charges, guided visits to all sites, evening slide shows and travel insurance.

Forage for your own dinner
Dates: 17 - 20 April, 20 - 23 Sept
Food lovers will know there is nothing more satisfying than eating the fruits of your own labour, which is why Hell Bay on the tiny island of Bryher, Isles of Scilly, has created a Wild Food Foraging Break. The package includes six diverse foraging walks across the untamed Scilly isles where an abundance of seasonal foods grow in the wild - talk about a free lunch!
Led by Wild Food Expert Rachel Lambert, who is well known for her knowledge of the countryside, guests will be sure to find a feast of unique and rare plants which they can take back to the hotel's kitchen. Here the experience continues with Head Chef, Richard Kearsley, using the best of the wild seasonal tastes to produce an elegant, mouth-watering dinner.
Costing £695pp, including 3 nights Suite accommodation, travel from Penzance, dinner, bed & breakfast, wild food walks, entry to the famous Abbey Gardens and boat excursions.
Bird watching break
Dates: 24 - 29 April, 28 Sept - 3 Oct
The tiny, untamed island of Bryher - the smallest of the inhabited Scilly Isles - is not only renowned for its vast skies, white sand beaches and wildflower blooms, but also for the sighting of incredible rare birds as they make their migratory journeys.
Twitchers - get your binoculars at the ready, as Willow Warblers, Chiffchaffs, Sedge, Golden Oriole, and Purple Heron expect to touch down on Bryher. New England-style Hell Bay invites beginners and avid wildlife-watchers alike to join its 5-night Migration Break led by professional Ornithologist, David Rosair. Boat excursions to the outer islands and access to Tresco's famous Abbey Gardens and the bird haven that is the Great Pool will guarantee fabulous sightings, after which it's back to base for alfresco dining on Hell Bay's freshest seafood catch, overlooking the Atlantic!

Costing from £1055 pp for 5 nights' accommodation with breakfast and 3-course dinner each day, boat excursions and guided tours and entrance to Abbey Gardens.
To book, email drosair[at]aol.com or visit hellbay.co.uk.