Enjoy the best of Burgundy with Keycamp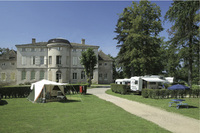 For fans of both the wine and the region, there are great value breaks on offer in Burgundy during 2013 thanks to Keycamp. The outdoor holiday specialist is offering seven nights at its brand new parc in Gigny-sur-Saône for just £337 per party in May, including travel - ideal for raising a toast to a super European break, without having to break the bank.
Set in the scenic grounds of a 16th century château, and with a three pool complex complete with sauna and Jacuzzi on-parc, Keycamp's new Château de l'Epervière parc is the perfect gateway to the beautiful Burgundy countryside beyond.
Wine lovers will be in their element with weekly tasting sessions available at the parc's cellars, while the renowned Burgundy vineyards are just a short drive away. Gourmands, meanwhile, will love the superb restaurant on-parc which offers regional specialities, including the infamous boeuf bourguignon.
The lovely town of Chalon-sur-Sâone, with its weekly markets, half-timbered houses and 19th century cathedral, is just 30 minutes away. Meanwhile, back at the campsite and there's entertainment galore, with fresh water fishing on the beautiful lake, cycle hire and table tennis, as well as a sun terrace all available.
A Seven night family holiday starting on 10 May 2013 at Château de l'Epervière, staying in a two bedroom Villagrand mobile home (sleeping up to four adults and two children) with decking, will cost from just £337 per party, including return Dover to Calais ferry crossings.
Alternative ferry crossings and fly-drive packages are available at a supplement.
To book, or for more information, visit keycamp.co.uk.
Prices subject to availability and correct at time of publication.