Brits flock to France in search of the good life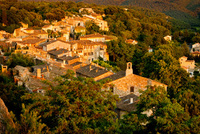 One in seven British citizens living overseas said they would stay abroad for "the favourable cost of living" according to a new report conducted by the Home Office with the majority of British emigrants "making a lifestyle choice" rather than moving primarily for work.
Amid this steady flow of Brits buying abroad, France tops the list of destinations for home buyers looking to snap up a foreign property.
Indeed the latest HiFX Property Hotspots report revealed that 23% of potential property buyers are looking to own a home across the Channel with Mark Bodega, director at HiFX, commenting,
"France remains a safe bet for Brits. It goes without saying that the sun and lifestyle are a big pull but buyers can now get better value for their money and take advantage of the weakening Euro."
Danny Silver, an international real estate expert and director of The Villages Group explains further, "French buyers are now taking advantage of the current Eurozone crisis with the largest percentage per capita of holiday home owners in the world. A recent report has shown that 84% of French citizens spend their holidays within the country - there must be a good reason for that!"
France has also won numerous accolades as a retirement destination, consistently featuring in top ten lists from publications across the world. In 2009, it was one of Forbes' top ten retirement havens. This view is also shared across Europe; in May 2011, British newspaper, The Daily Telegraph, voted France into its own top ten lists of overseas retirement destinations.
Silver added: "Southern regions of France have long been considered a great retirement destination for foreigners. Its mild climate and picturesque, idyllic villages along with cheaper living costs are often cited as common reasons UK citizens choose to reside there."
The Villages Group provides a forward thinking approach for active people who want to live their lives to the full in one of the top ten expat countries in the world.
Offering a stunning natural landscape with a low living cost, this pioneering concept in rural France is set to provide homes and services for people in the 50 plus age group who want a property that they can enjoy in their later life.
The properties are all on one level and eco-friendly set in natural environments with site facilities including tennis courts, an indoor pool, gymnasium and entertainment programmes.
For more information, visit thevillagesgroup.com.