The Royal Ballet's The Nutcracker broadcast live into cinemas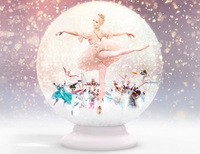 The Royal Ballet's production of The Nutcracker will be broadcast live into cinemas worldwide for one night only on Thursday 13 December.
Glittering with Christmas sparkle, The Nutcracker is a firm family favourite and is classical ballet at its most approachable. It features a mesmerising score by Tchaikovsky, a Christmas tree that magically seems to grow, a fierce battle between the toy soldiers and the army of Mice led by the Mouse King, and the famous dance of The Sugar Plum Fairy danced by Roberta Marquez, with Steven McRae as the Prince.
The full Company of The Royal Ballet fills the stage with colour and energy, while the set designs, beautiful costumes and impressive staging creates a magical atmosphere. Peter Wright's production was first seen at Covent Garden in 1984 and is ready to reveal its magic to another generation.
After the success of the 2011-2012 Royal Opera House Cinema season, which provided audiences with a series of fantastic live screenings including the charming ballet La Fille Mal gardée which was number 5 in UK Box Office on the day of the live screening, the varied and exciting 2012/2013 season kicked off in style on 23 October with the most popular screening to date -The Royal Ballet's Swan Lake live in Cinemas.
The Royal Opera House continues to lead the way in opera, ballet, music and dance in cinema both 2D and 3D and the many platforms available including digital downloads, CD, DVD and BLU-ray all distributed through Opus Arte. Each year the number of cinema sites in the UK alone that carry Royal Opera House screenings is steadily increasing with more than 240 sites in the UK taking the entire Royal Opera House Cinema Season and over 900 sites worldwide.
For full details of all cinema screenings, visit roh.org.uk/cinema.