Santa's left presents waiting for you at MG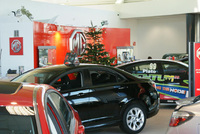 Santa's traded in his sleigh for a sparkling red MG6 GT and he's left some special presents for an MG used car spectacular this weekend.

He dropped into the MG Sales Centre in Lowhill Lane, Longbridge, Birmingham to collect his used MG. Santa said: "So many boys and girls have been good this year that Rudolph and his chums just couldn't have coped. The MG will let me get around so much quicker and its huge boot can carry more presents."

This weekend the MG Sales Centre will hold a special pre-Christmas Approved Used car sale, and for everyone who buys a car Santa's left a present.

Approved used MG6 GT and MG6 Magnette models are on sale this Friday, Saturday and Sunday from £9,995 and with just a £500 deposit, monthly repayments are £199.

Buyers will also benefit from Santa's special present for this weekend only. They can choose from either three years free servicing on their car or a bumper Marks & Spencer Christmas hamper.

More than 40 specially selected Approved Used MG6 models will be on view. Every one will benefit from a 130 point check; HPI assured history and will carry the balance of MG's three-year warranty cover and AA European Breakdown Assistance. Higher spec models will have lifelong subscription to Traffic Master. Most are less than a year old and have covered less than16,000 miles.

Richard Bourton, MG's Business & Used Car Sales Manager, said: "Santa has certainly bagged a bargain but he's left some great presents for us to give away this weekend. The hampers are superb and the three year servicing deal offers a real saving.

"Santa went for the servicing deal so he will be dropping in to see us for the next few years. But he has left me a problem – I need to find out how much a well worn sleigh, which has been round the world a few times, is worth!"

The MG6 GT was launched in May 2011 and the four-door Magnette sports saloon was launched in July 2011. Both cars were designed and engineered at the MG Birmingham site where final assembly also takes place. The MG6 was awarded the What Car? 2012 Security Award.