Vauxhall Corsa passes the test for driving instructors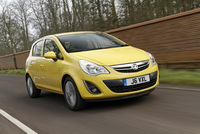 Vauxhall's top-selling Corsa supermini has been honoured as Training Car of the Year 2012 by readers of adiNEWS, the magazine for driving instructors.

The Corsa romped to victory with over a third of all votes cast with economically-minded instructors chosing the 1.3-diesel in the well-equipped Active trim as their favourite model.

'The overwhelming signal of success was just how easy the Corsa is for students to drive – individual points noted included the smooth gears and clutch, the light steering and the ease of parking,' said Paul Caddick, Managing Editor at adiNEWS.

'Many of our readers cited the low running costs, officially 53.3 mpg on the urban cycle. Add to this the fantastic all-round visibility from the driver's seat, the high level of comfort for the long suffering ADI, and the excellent reliability, and our readers' choice this year seemed straightforward,' he added.

'This is really great news for us, and we'd like to thank everyone who voted for the Corsa,' said Peter Hope, Vauxhall's Marketing Director. 'The Corsa is one of Vauxhall's best-selling models and one of the reasons owners warm to it so much is because it's practical, comfortable and fun to drive − all qualities which we know are important to both instructors and driving students alike.'

The Corsa is a popular choice for instructors and driving schools with the Luton based-manufacturer supplying the model to both BSM and RED.