New French Alpine holiday homes with contemporary feel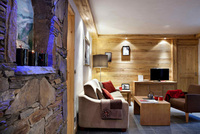 The rustic-style interiors of many of the holiday homes built in the French Alps by MGM are being replaced in its newest developments with contemporary finishes which, according to research, have greater appeal to today's buyers.
The new look is being pioneered at Les Chalets d'Angèle, a résidence de tourisme currently under construction in the picturesque village of Châtel on the French-Swiss border.
Some internal walls are clad in wood or have a bright white finish. Floors are in a mix of stone and larch parquet finishes. Timber kitchens have given way to contemporary fitted models with granite worktops.
"These changes, combined with greater use of spotlights, create a twenty-first century feel within our traditional external finishes of local timber and stone," says Richard Deans who heads MGM's London sales team.
More about Les Chalets d'Angèle
Les Chalets d'Angèle is being built in response to demand for year-round holiday accommodation from people who love the outdoor life, explains Richard.
He says: "At this time of year, snowboarding and bobsleighing can be enjoyed in addition to skiing in the world's largest international linked ski area, the Portes du Soleil, which boasts 650 km of slopes taking in eight French ski resorts and four in Switzerland.
"In summer, activities like hiking, biking and riding are on the doorstep; nearby are rafting, fishing and paragliding."
The family-friendly village is a 90-minute drive from Geneva Airport.
When the 73 apartments in the first phase of MGM's development are ready for occupation in December this year, owners will have use of all the four-star facilities within the résidence, including an indoor pool, fitness suite, gym, sauna, jacuzzi and steam rooms. An OdesCimes spa will have a variety of massages and treatments on offer.
Current prices at Les Chalets d'Angèle start at €248,000 for a two-bedroom apartment with a floor area of 52 sq m rising to €348,000 for an 72 sq m three-bedroom property. The prices, which exclude French VAT at 19.6 per cent – waived under the leaseback scheme – include underground parking and cellar storage as well as use of locker rooms, a laundry and drying rooms.
For more information about MGM's latest developments, visit mgmfrenchproperties.com.