Experience the magic of Shakespeare Country in 2013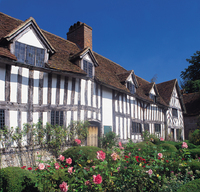 With a wealth of heritage, theatre, arts, festivals and glorious gardens, there is so much to experience in Shakespeare Country in 2013. Take in a world renowned play by the Royal Shakespeare Company, enjoy the famous Shakespeare Birthday Celebrations, experience beautiful and historic gardens and take part in exciting new tours that bring to life the magic of Shakespeare Country.
The Summer 2013 season at the Royal Shakespeare Company builds on the legacy of the World Shakespeare Festival and the RSC's winter programme in Stratford-upon-Avon, which examines the rest of the world in Shakespeare's lifetime, with premieres of The Orphan of Zhao, Boris Godunov and A Life of Galileo as well as a double bill of The Merry Wives of Windsor and a new adaptation of The Mouse and his Child this Christmas. Throughout 2013, enjoy performances of Hamlet which runs from the 14 March – 28 September at the Royal Shakespeare Theatre, Titus Andronicus, which runs from the 16 May – 26 October at the Swan Theatre and As You Like It which runs from the 12 April - 28 September at the RST.
The Shakespeare Houses will celebrate a number of exciting new events in 2013. A new exhibition entitled Trust Treasures (a selection of rare and precious items for the Trust's library and archive – the world's largest Shakespeare-related collection) will take place in the Shakespeare Room from April. Hall's Croft will be celebrating its 400th birthday with special events throughout the year. Mary Arden's Farm will be celebrating its 500th anniversary with activities reflecting everyday life and celebrations in Tudor times. From Twelfth Night revels in January, through to the annual Shakespeare's Birthday Celebrations in April, poetry, literary, music and river festivals in the summer and harvest-themed events in autumn, the calendar is packed with special events for visitors to enjoy. Plus the 2nd annual Shakespeare Film Festival will take place in October.
Explore four areas of Warwick Castle that have never been seen before with 'Warwick Castle Unlocked'. Open up the doorways and venture into towers that hide 1000 years of history and investigate secret passageways that lead to a forgotten past.
The Falstaff Experience Tudor World is launching two exciting new tours in 2013. 'Bard on the Busses' will take in the historic sights of Stratford-upon-Avon including Shakespeare's Birthplace, The Three Tunns Tavern (Shakespeare's old local), Royal Shakespeare Theatre, Halls Croft, Anne Hathaway's cottage and Mary Arden's Farm. However if you are more interested in ghosts and spooky happenings then join 'Buster's Spooky Tour', a family friendly ghost tour of the museum guided by renowned ghost hunter Dr. G Buster!
The Heritage Motor Centre at Gaydon will be celebrating its 20th Birthday in 2013. Home to the world's largest collection of historic British vehicles, the HMC is planning a host of special anniversary events, including a centenary exhibition on 'Morris the Man', the founder of the Morris Car factory in 1913, an Aston Martin – 100 years of Craftsmanship Exhibition, as well as its own birthday celebrations in May. In addition there are a number of exciting shows including the UK Slot Car Festival on 12 May featuring all models of Slot and the Gaydon Mini Show on 7 July featuring Mini's old and new.
Coventry Transport Museum is hosting a major new temporary exhibition entitled War Effort which will run from mid-July 2013 - January 2014. War Effort will tell the incredible story of how in the 1940s, the UK's motor companies supported the military, by building so-called 'shadow factories', and turning over production to building thousands of military vehicles, staff cars, munitions and other military equipment. War Effort will take visitors on a very personal journey through the lives of some of the people who worked in these factories, and will shed particular light on the fascinating stories of the women who were drafted to work in the factories, many for the first time in their lives. Admission is free of charge. Two other major exhibitions in 2013 include ScooterMania which runs until Sunday 3 March and 999 – Emergency Vehicles which runs from the 22 March - 16 June.
Ragley Hall will be celebrating the seasonal transformation of their beautiful gardens with a Walk and Talk series starting at the end of January and ending in October. Wander the gardens at your own leisure and enjoy a presentation by the Head Gardener with a forum for gardening Questions & Answers. Gates will open from 11am - 3pm most Thursdays. Entrance to a Ragley Gardens Walk and Talk day is only £5 per person with free parking.

Stoneleigh Abbey will be offering special Jane Austen Tours followed by afternoon tea in the Orangery Tea Room overlooking the River Avon from Easter at 1pm on a Sunday & 12 noon on a Wednesday. The Abbey will also be launching a new Ladies Tour which will look at women's lives at the Abbey from 1500s -1800s and cover topics such as marriage, divorce, childbirth, interests and rights.
All Things Wild at The Domestic Fowl Trust will be hosting a Step through Time Dinosaur experience which is due to open at Easter. Visitors will be able to see several life size Dinosaur models from different time periods to see what it would have been like to walk with Dinosaurs.
Hill Close Gardens will open every day in 2013 to provide more flexibility for visitors and residents. From Monday - Friday visitors can access all 16 hedged gardens and their summerhouses from 10.30am - 3.30pm. The cafe and visitor centre will also be open on Friday & Sunday afternoons and all day on Saturdays. Special snowdrop openings are being arranged from the 4 – 22 February during the week with guided tours on request. The popular indoor snowdrop display will also take place over the weekend of 16 – 17 February.
2013 is the year of the Warwickshire Tapestry Festival and will see a host of events take place to celebrate the return of the newly conserved Sheldon Tapestry to the Warwickshire Museum in Warwick. The Sheldon Tapestry Map of Warwickshire was woven in the 1590s and was one of a set of four tapestry maps made to hang in Ralph Sheldon's house in south Warwickshire. This rare and wonderful pictorial representation of Elizabethan Warwickshire has recently returned to the Warwickshire Museum following extensive conservation and a display in the British Museum's exhibition, 'Shakespeare: Staging the World'. Visitors can take part in a Tapestry Workshop on the 6 April to learn basic tapestry weaving.
The 2013 Stratford upon Avon Literary Festival takes place from the 21 April - 5 May. In its 6th year, the Festival will be another superb programme of events featuring celebrity authors, novelists, workshops, competitions and panel events, as well as a wide and comprehensive schools programme.
Stratford upon Avon is already known for hosting a number of highly regarded and well supported festivals, including Music, Poetry, River, Fringe, Food and Halloween. For 2013 Stratford is adding the Festival of Motoring to it's repertoire. There are very few Motoring Festivals that take place in the heart of a town but that's what is planned and there is already considerable excitement amongst residents and businesses alike. The Stratford Festival of Motoring will be held on paved areas throughout the town centre, (no muddy fields!) and will be free to the public. In the first year, the number of vehicle entries is being limited to around 150 cars, including up to thirty Supercars and in total contrast, Microcars as well as a great array of vintage and classic cars and vintage motorcycles, plus a number of 'surprises'.
Compton Verney will host a number of major art exhibitions in 2013. Bellini, Botticelli, Titian… 500 years of Italian Art will run from the 23 March - 23 June and comprises 40 of the City of Glasgow's greatest Italian paintings – the finest and most comprehensive civic collection in the UK. Turner and Constable: sketching from nature Works from the Tate collection will run from the 13 June - 22 September and include around 60 works by Turner, Constable and their contemporaries. Curious Beasts: Animal Prints from the British Museum will run from the 5 October - 15 December and will explore our enduring curiosity about the animal world through the beautiful and bizarre imagery found in the rich print collections of the British Museum.
For accommodation, special offers and more information visit the official website Shakespeare-Country.co.uk.