Once in a lifetime opportunity to participate in rhino conservation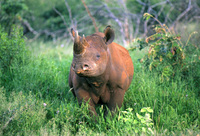 With Africa's rhino population facing the worst poaching crisis in decades - the most serious upsurges in South Africa (588 reported cases this year), Kenya and Zimbabwe - this offering from The Phinda Reserve in South Africa's KwaZulu-Natal is particularly timely. Renowned for its work in the conservation of habitats and species Phinda is currently offering guests a once in a lifetime opportunity to get up close and personal with rhino while assisting with the conservation of this endangered species.
This adventure allows guests to witness the capture and darting of a rhino and assist the veterinary team in notching the sleeping animal's ear for research and monitoring. Ear notches, as well as microchips placed in the horn, enable researches to correctly identify different rhino on the reserve.
Groups of up to eight guests can participate in the entire process, from locating and darting the rhino by helicopter, to the unique opportunity to approach the anaesthetised giant during the notching procedure.
Guests will need to spend a minimum of three nights at any of the Phinda lodges in the Phinda Private Game Reserve to participate in this one day activity which includes
Game drives and habitat orientation
Rhino tracking
Practical roles alongside the guides and vets; such as measuring the heart rate, during darting
The darting programmes take place throughout the year and are subject to the availability of the vets and helicopter pilot. No prior experience is required and the trip is open to responsible children over the age of 12 as well as adults.
The rhino notching safari is available through Aardvark Safaris and cost for the three night trip is from £3,610 per person to participate in black rhino notching and from £3,145 per person for the white rhino activities. Price includes full board accommodation and all safari activities. No single supplement.
For more information, visit aardvarksafaris.com.