Big Cat conservation and tracking projects 2015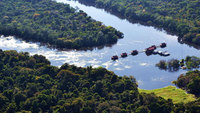 As part of its extensive wildlife portfolio, Steppes Travel introduce four very unique and exclusive Big Cat trips, all of which highlight its commitment and deep rooted ethos in hands on conservation and making a difference.
Full of charisma and the embodiment of power and guile there is little wonder that for wildlife lovers and photographers, big cats are the ultimate prize. Led by expert naturalists and researchers who track these animals daily, the below trips offer clients the rare and exciting opportunity to follow and study these creatures in the wild.
India: In the Land of the Tigers
5 April and 8 April 2015
Getting to India's national parks has always taken time and patience, and usually means losing a few days holiday to travelling by road. Not anymore. Exclusive to Steppes Travel and the only UK operator offering this opportunity, it has chartered a Cessna Grand Caravan to allow a group of up to 8 wildlife lovers to fly between Jabalpur and the National Parks of Bandhavgarh and Khana, giving maximum time on safari and minimal time spent on bumpy roads. Accompanied throughout by Kartikeya Chauhan or Himanshu Rathor, both highly regarded naturalists, there will be an emphasis on wildlife spotting with 11 game drives over six days in the park. And by using the smaller, open sided jeeps on the ground there is the chance to explore more remote parts of the park increasing the chances of seeing the elusive tiger, the largest of the cat species.
And for the ultimate experience, Steppes can arrange a full day's permit in the parks allowing for unrestricted access to tiger hot spots when the park's other vehicles have all returned to their lodges.
10 days from £4,645 per person including international flights.
Brazil: The Jaguar Expedition
26 May 2015
Due to Steppes Travel's support of the Mamiraua Sustainable Development Reserve they have secured exclusive access to six places this year to join specialist researchers tracking and observing jaguar in the Pantanal.
After exploring the Pantanal on foot walking through pristine forest, by boat floating down rivers and on horseback crossing the savannah and floodplains, the trip will venture deep into the Brazilian Amazon and the Mamiraua Sustainable Development Reserve. Part of the world's largest protected tropical rainforest corridor it has one of the highest densities of jaguar on earth, including the rare black jaguar, and is therefore logically also home to Jaguar Researchers and Scientists. As part of the trip, travellers will spend four days helping specialist jaguar researchers track the jaguars, travelling by boat and observing the big cats up in the treetops. During the flood season jaguars spend three months sleeping and hunting in the treetops, an incredible adaptation and only seen in this area.
The trip will support this important scientific research with funds also going to Jaguar School, teaching science and environmental conservation to children in the communities of the reserve. Essential to the reduction of hunting and conflicts between jaguar and the local communities.
13 days from £4,695 per person excluding international flights
Namibia: Cheetah Kingdom
25 June 2015
Working exclusively with AfriCat, this is a unique conservation tour with the opportunity to work with AfriCat's vets on the Annual Big Cat Health Examination weekend that takes place at Okonjima. Clients assist vets to ensure all cheetahs are vaccinated and given a thorough health examination. This is hands-on participation and unparalleled access to cheetahs over two days of checkups.
While the first part of trip focuses on big cats, the second part of the journey concentrates on local people. Based in western Etosha and expertly guided by Tammy Hoth, Head of Africat North, there is the opportunity to meet with local community leaders to gain an insight into what it really means to live alongside cheetah, lion and other predators.
12 days from £2,765 per person excluding international flights
Botswana, South Africa, Namibia, Zimbabwe, Kenya And Tanzania: The Ultimate Big Cat Trip
New this year, Steppes Travel has introduced an Ultimate Big Cat 25-day adventure to see Africa's most iconic felines in their natural habitat, accompanied by expert guides who will offer an insight into the conservation efforts being made to protect them.
Track the black maned lions of the Kalahari, search for the famous leopards of Londolozi in South Africa and meet with the experts at AfriCat in Namibia to learn about cheetah and leopard conservation. Fly to Botswana and visit Duba Plains in the Okavango Delta, home to a pride of buffalo hunting lion made famous by the research of the Jouberts.
And finally, track lion with Samburu and Masai in Kenya before spending time with the Hadzabe tribe in the Ngorongoro region of Tanzania.
25 days costs from £22,300 per person including all flights
For more information, visit steppestravel.co.uk.