Hobbit hideaway at boutique hotel Fishmore Hall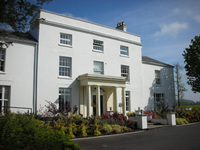 Shropshire based boutique hotel Fishmore Hall has launched a hobbit package to celebrate the film release, and the county's connection with Middle Earth.
Located in Ludlow, Shropshire; Fishmore Hall enjoys a perfect location from which to explore the fine countryside that was once Tolkien's backyard.
Tolkien used to live nearby and drew inspiration from his local surroundings, most notably Middle Earth in his famous works, a must to visit for Tolkien fans and a chance to walk in his footsteps.
The Hobbit Hideaway at Fishmore Hall package includes a three course dinner in award-winning restaurant Forelles, overnight stay and most importantly a Hamper picnic to take to Telford to explore Tolkien's inspiration for Middle Earth, The Wrekin.
Owner of Fishmore Hall, Laura Penman says: "We have really enjoyed putting together a package in celebration of Tolkien's work to tie in with the films launch this month.
"We are proud to be located in the lovely Shropshire countryside, and it has provided the perfect opportunity to show-off the exciting connection with Hobbit author Tolkien.
"What could be better than gourmet food, luxury accommodation and a trip in Tolkien's footsteps - hopefully it will inspire another young author!"
The exclusive Hobbit Hideaway package at Fishmore Hall is set to be popular with film buffs and literary fans alike throughout 2013.
To book the Hobbit Hideaway package, either visit fishmorehall.co.uk.