Fighting fit with Exercise Matt at 45 Park Lane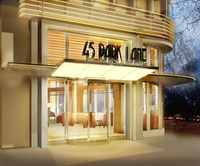 As of January, fitness expert and trainer to the stars, Matt Roberts' 'Exercise Matt at 45 Park Lane' offering will be enhanced to encourage 'new year' fitness and support marathon training. With the complimentary in-room workouts already a popular feature of 45 Park Lane - Dorchester Collection's latest London offering - guests staying at the hotel will be able to further increase their fitness stamina and nutrition with the more complete 2013 programme.
Complementing the hotel's current well-being offering, which includes complimentary yoga mats within each room and ten bespoke Brompton bicycles, 'Exercise Matt at 45 Park Lane' offers guests a selection of professionally-led workouts designed, demonstrated and narrated all within the comfort and privacy of a guest's hotel room. Five routines focus on different areas of the body such as; full-body, abs, legs and arms, and are featured on the Bang & Olufsen televisions, utilising furniture within the room during the routines.
From 1 January, Matt Roberts' personal selection of dishes from Wolfgang Puck's modern American restaurant, CUT at 45 Park Lane, will be available upon request, outlining the top food and beverage options most beneficial to a training diet. Throughout the 'marathon month' of April, a special 'Booster Slider' of spicy lobster and raw vegetables will also be added to Bar 45's Rough CUTs menu. Made with nutrient-rich ingredients such as raw carrot, green and red cabbage and Shitake mushrooms, the slider is wrapped in a sheet of rice paper and served alongside 10-spice honey.
An 'Exercise Matt at 45 Park Lane' overnight stay will be available in April, catering especially to those running in next year's Virgin London Marathon or simply wanting to have more fitness support during this time. Available from 1 April 2013 until the day of the race, Sunday 21 April, the one-night offering is priced at £474 per room per night and includes:
One night stay inclusive of healthy breakfast suggestions from Matt Roberts
A pre and post-run Matt Roberts fitness shake, best suited to a runner's needs
A copy of Matt Roberts' 'Getting Running' fitness book
One Booster Slider on arrival as room amenity
Use of 45PL's Brompton Bicycles and in-room yoga mat and DVD
To congratulate guests who complete the marathon, a complimentary De-Stress Muscle bath using Aromatherapy Associates' oils will be drawn upon their return on Sunday, offered together with a relaxing candle, herbal tea and flower bouquet to complement the effects of the bath oil. Should a post-run muscle treatment be required, a Deep Tissue Massage at The Dorchester Spa just opposite provides the perfect relief for tired limbs.
Upon check-out, guests wishing to benefit further from Matt Roberts' philosophy can request a special 'Exercise Matt at 45 Park Lane Fitness Pack', which includes step-by-step training techniques, a healthy seven-day eating plan and 'In The Know' tips from Matt on how best to stay healthy and in shape.
Matt Roberts is responsible for creating some of the most famous physiques in fashion, music, politics and industry, has published 12 fitness books to date, and is a regular expert contributor to morning breakfast shows, radio programmes and leading media.
Follow the link to see Matt's personal welcome to try his 45 Park Lane in-room workouts:
45parklane.com/default.aspx?treeid=984
For further information on Exercise Matt at 45 Park Lane or to make a booking, email reservations.45L[at]dorchestercollection.com.