Artistic pioneers weekend at The Grand Hotel, Eastbourne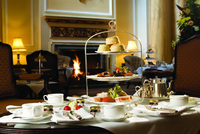 Britain's only five-star seaside property, The Grand Hotel in Eastbourne, will host a "Pioneers at The Grand" weekend from Friday 22 to Sunday 24 February 2013 celebrating the lives of trailblazing photographers, artists and inspirational figures.
Friday 22nd February
A Woman Ahead of her Time, 6pm - Julia Margaret Cameron
The weekend starts with a performance by actress Miriam Cooper who will bring to life ambitious and freethinking photographer Julia Margaret Cameron (1815 – 1879). Renowned for "Victorian Photographs of Famous Men & Fair Women", Julia was also godmother to Virginia Woolf.
Saturday 23rd February
A Journey into the Past, 11am - Grace Robertson, OBE
Saturday begins with an illustrated talk by engaging speaker Grace Robertson OBE, known for her 1950s photographs in Picture Post magazine that captured the zeitgeist of the decade.
During the afternoon Shelley van Loen and the Palm Court Strings will play by the Great Hall fire during tea with pastries
Zen Drawing and Painting, 4pm - Elda Abramson
A demonstration from painter Elda Abramson completes the artistic trilogy. Recognised for her vibrant ink paintings, Elda shows how novice and experienced painters can use 'right brain' techniques to release creativity.
Tom Crean, Antarctic Explorer, 6pm
Finally, hear about eminent pole explorers Captain Scott and Ernest Skackleton through the eyes of Tom Crean who served and outlived both adventurers (1877 – 1938). Acted by Aiden Dooley from Play on Words Theatre, the performance provides a fascinating insight into the lives of these revolutionary men.
Sunday 24th February
After a hearty breakfast guests can make use of the hotel's indoor pool, spa and leisure facilities including sauna, steam room and gym
The Grand Hotel has a rich history of supporting the arts as well as a stellar guest book of visitors since the hotel's opening in 1875, including Winston Churchill, Debussy and Charlie Chaplin. Ernest Shackleton lived in Eastbourne and famously sketched one of his Arctic routes on The Grand's notepaper.
The stay includes two nights' deluxe accommodation with breakfast, on Friday and Saturday tea with pastries and dinner with wine, evening music from the Simon Goodwin Band and talks as detailed. Rates start from £284 per person based on two sharing, and guests can extend the stay on Sunday night at the reduced rate of £110 per person based on two sharing for dinner, bed and breakfast.
For more information and bookings, visit grandeastbourne.com.