15 trends for the New Year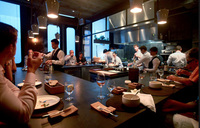 What will you eat, drink, buy and read about in 2013? Here are the things you'll be talking about in the year ahead.
Dining Out
1. Dinertainment: Expect to see restaurants offering a flat, ticketed fee for an evening of culinary theatre and tableside food preparations. Pioneered by Chicago's Next and New York's Eleven Madison Park, where the New York clam bake and malt soda dessert treats are prepared alongside your table (for a price of $195 per person), this trend will reach Europe and Asia and restaurants at all price points.
2. Bistronomy: Leading young chefs are offering haute gastronomy in a rock & roll environment, with a culture of youth and creativity, and gaining global recognition. On the back of Paris' acclaimed Chateaubriand, restaurants such as Dabbous in London and Atera and Blanca in New York are creating waves with 20-25 course menus. Rock music and counter-seating is becoming the standard.
Drinking & Socialising
3. Tequila!: Tequila becomes the hip drink, as premium brands including Cazadores and Patron take centre stage. Following the discovery upscale of Mexican food, it was only a matter of time before tequila made its way into upscale and trendy hotel bars.
4. The Neighbourhood Kitch Bar: While the speakeasy has rapidly become yesterday's coffee, the neighbourhood kitch cocktail bar is firmly making an impact. From places like Fig.19 and Raines Law Bar in New York to the recently opened Love & Liquor in Kilburn, Lardo or Unpackaged on Richmond Road in Hackney, or even Platform Bar opposite London Fields. Stay tuned for Radiohead's new highly anticipated neighbourhood joint on Mentmore Street.
Music
5. Record Label Membership: Pick your favourite record label and subscribe. Blue Note, the iconic jazz label housing historic greats like John Coltrane to modern names such as Norah Jones, has launched a fantastic app via Spotify that lets you explore everything jazz through the label. Electronic label Ghostly International has launched the Ghostly Music Service, providing free downloads of current and catalogue releases from the label, as well as mixes and sessions from its artist roster.
6. Music "Festival At Sea": Trade up from camping to cruising. A new concept is emerging whereby a slew of arena-level bands can be enjoyed lounge-chair style. The 2012 Monsters of Rock Cruise featuring legendary bands Cinderella, Tesla and Stryper, kicked off the trend, and Weezer held a cruise for 2,000 fans (supported by bands such as Dinosaur Jr.) to sail between Miami and Cozumel. Shiprocked – headlined by metal band Korn – took place in November. Europe's first cruise festival – Offshore – will take place next summer, headlined by Snow Patrol.
Fashion
7. Sweat-Chic: The sweatshirt is back – and it's expensive. Lanvin is offering its JL Hooded sweatshirt for men for €1,995, while Givenchy's is a cool £225. Expect to see sweatshirts on the chicest of men and women, worn as dresses, with smart skirts and suits, and just about any way you want to show your style. Balenciaga, Kenzo, and just about everyone will offer them, so pick your brand.
8. Chic Ear-Cuffs: We're not talking goths – we are talking elegant, sophisticated ear-rim jewellery, seen on the runway recently by Repossi, Rodarte and now others.
9. Aristo-Models Oust Celebrity: Magazine covers were adorned by supermodels, then celebrities, and now aristo-models. First it was Alice Dellal, as the new face of Chanel's handbag range. Then Cara Delevigne is everywhere. Oh, and Charlotte Casiraghi of Monaco in the Gucci ads. Finally, we may see celebrity fixation wane, as the world begins to replace interest in celebrity with the young establishment.
Personal Technology
10. Apps Eco-System: What do your apps say about you? The same way that you once looked at someone's CD rack or magazine collection to assess what they are about, one can now look no further than someone's iPhone to gauge their personality. Whether it's fashion, sports, music, art or financial information, the suite of apps on one's phone reveals all.
11. Facebook Gifts: Launched in the US just in time for Christmas, the rest of the world will soon see be able to give and receive gifts via Facebook. Based on your friends and timeline Facebook will offer the opportunity to buy gifts, send flowers, get cupcakes delivered, etc. As the recipient, you get notified on Facebook that you have a gift waiting, and enter the details where you want your gift sent. Simple as that. With a billion birthdays on file, Facebook may have found its way to make its mark on the $200 billion e-commerce market.
12. E-House Cleaning: Finally regretting those Facebook party posts of 2007, the discovery of your 'anonymous' Gmail account, etc., 2013 is the year to clean e-house. Perhaps one for January, during that detox month.
13. E-Education: Expand your knowledge with online classes. Khan Academy has delivered nearly 220 million online classes, TED online participation is at record levels, and university distance-learning in expanding at a pace. Online education enrolment is growing at 2% versus overall higher education. Podcasts, tablets, cloud systems and new content sources will only help, as people seek self-improvement by expanding the mind.
Travel
14. Going Urban Native: Rather than stay in a hotel, people will seek to go native, opting to stay in an apartment in their city of choice. Websites like OneFineStay (London, New York and Rue Amadine (Paris) offer high-end, design apartments, while Love Home Swap allows you to swap your apartment with an equivalent one of someone else in over 100 cities – a barter deal.
15. Return to Opulence: The grand hotels are becoming even grander, as the penchant for design hotels is replaced by a return to opulence. 2013 will present the outcome of some of restorations of some of the most iconic hotels, including Venice's exclusive Gritti Palace, the Prince de Galles in Paris, Hotel Alfonso XIII in Seville, Hotel Maria Cristina in San Sebastian.