Beetle Fender rocks into town along with the new Scirocco GTS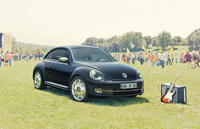 Music fans have always liked the Beatles, and now they've got another great reason to get into Beetles, with the introduction of the Volkswagen Beetle Fender limited edition, created in conjunction with the eponymous guitar manufacturer.

The limited-edition Beetle Fender comes with an efficient yet powerful 2.0-litre TDI 140 PS engine connected to either a six-speed manual or DSG gearbox. Like the cover of Spinal Tap's infamous album Smell The Glove, it is available in just one colour – black (in this case a lustrous Deep Pearl Black) – with a rear spoiler, stylish 18-inch 'Discus' alloy wheels, and a Fender badge on each front wing.

Step into the Beetle Fender's welcoming interior, and the guitar connection becomes clear: each model comes with a dash panel in vibrant 'Sunburst' wood, just like a classic Fender guitar. If that's not enough to rock your world, each car is fitted with the incredible 400-Watt Fender sound system, complete with boot-mounted subwoofer, illuminated front speaker mountings, and a volume dial that goes to 11 (okay, we made that last bit up).

Each Beetle Fender also comes with the RCD 510 audio unit with full-colour touchscreen and MDI multi-device interface, 2Zone climate control, front and rear parking sensors, bi-xenon headlights and bespoke 'Cheyenne' cloth seats with leather-look side bolsters.

The Beetle Fender costs £23,015 (RRP OTR) for the manual model, and £24,610 for the DSG. Orders open on 2 January but hurry, production is limited.

Following the rock 'n' roll theme of the Beetle Fender, may we present the White Stripes? Or rather, the white or black stripes adorning the new Scirocco GTS model, which also opens for ordering on 2 January.

The eye-catching new Scirocco GTS packs a unique specification that includes the aforementioned pair of broad stripes running the length of the vehicle from bonnet to tailgate, red- or white-coloured door mirror caps (depending on body colour), bespoke 18-inch 'Thunder' alloy wheels and a panoramic sunroof. The Scirocco GTS is available in Candy White (with black stripes and red door mirrors), Salsa Red (black stripes, white mirrors), Deep Black Pearl (white stripes, red mirrors) and Indium Grey (black stripes, red mirrors).

Adding to the already comprehensive specification of the R-Line model, the Scirocco GTS comes with black 'Vienna' leather upholstery with red stitching and an embroidered GTS logo, a golf ball-style gearknob, bespoke multifunction steering wheel with GTS logo, floor mats with red piping, GTS sill plates, Piano Black and Black Peak decorative facia inserts and Piano Black door handles.

As on the Scirocco R-Line, equipment includes an RNS 315 satellite navigation, Adaptive Chassis Control, 2Zone Climate Control, MDI multi-device interface and Bluetooth telephone connection.

The GTS is available with either a new 2.0-litre TDI 177 PS or 2.0-litre TSI 210 PS engine, and a six-speed manual or DSG gearbox. Prices are £27,945 for the TSI manual, £29,345 for the TSI DSG, £27,980 for the TDI manual and £29,395 for the TDI DSG.