North Cornwall is UK's newest hotspot to see migrating birds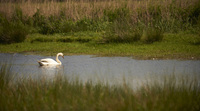 A Cornish farmstay holiday provider has partnered with a bird sanctuary to offer guests the opportunity to spot some of the rarest migrating birds in the country.
The Hawkey family, who run 30 self catering cottages at The Olde House near Wadebridge, have flooded 15 acres of their farmland to create wetlands as part of the Walmsley Bird Sanctuary to protect the Amble Marshes SSSI (Site of Special Scientific Interest).
Between late summer and March, the wetlands become a haven to migrating birds including waders, wildfowl and raptors. The area has attracted rare species in the past including the American Bittern and the Glossy Ibis, usually found in the warmer climates of Asia, Africa and the Caribbean.
Around 17 million birds use the UK for migration, either spending the winter here or feeding as they pass through. Cornwall has a relatively mild climate compared to other parts of the country, which encourages over 40 different species of birds to migrate for the winter season.
The Olde House last year opened three permissive footpaths around the 550 acre working farm so that guests and the public are able to experience the Cornish wildlife.
Andrew Hawkey, whose family have been farming at The Olde House for three generations, said: "Wildlife conservation is very important to us and we enjoy doing it. As well as our new footpaths, we are about to start work on a bird hide which will be open in late January 2013 for our guests to make the most of the wetlands.
"We have some really interesting and rare species visiting the marshes, and it's nice to see them in their natural environment. The countryside has plenty to offer all year round and a trip to Cornwall makes a great winter holiday as well as a summer one."
Established in 1939, the Walmsley Bird Sanctuary was one of the first nature reserves in Cornwall and today extends to over 20 hectares of reclaimed flood plain.
Adrian Langdon, warden of the Walmsley Bird Sanctuary, said: "Wadebridge is becoming a magnet for bird watchers now. You never know what's going to turn up and that's the beauty of bird watching. If you are expecting to see it then it wouldn't be quite as fun as going out and finding something new."??
The Olde House has plenty to keep its guests entertained beside its wildlife conservation. Visitors are able to care for an array of animals in Pets' Corner or take a dip in the heated swimming pool and whirlpool hot tub. There are indoor and outdoor play areas open to children.??
For more information, visit theoldehouse.co.uk.