Is it a standing sculpture or a ring?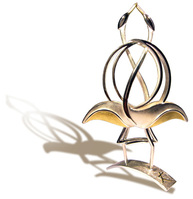 Kerstin Laibach's unique Finger Sculptures are actually both; entirely handmade by the luminary ethical goldsmith artist and fine-tuned to fit perfectly on one finger, between or on groups of digits. When not worn on the hand these works of art stand alone outside the jewellery box as sculptural fascination.
Many of Kerstin's finger sculptures are part of her growing Rise Collection, either architectural statements or more often depicting endangered species - and are made entirely of recycled precious metals … never new-mined. For example, a version of Laibach's "Great White Egrets" is for special auction by The Somerset Wildlife Trust, and the "Seahorses" are created to raise money for the Seahorse Trust based in Devon. "London Rising" pays homage to Renzo Piano's Shard and the ring itself even contains a fine gold-wrapped remnant of the old London Bridge where the new building stands.
If Laibach's "Rise" collection of standing finger sculptures induces a touch of vertigo, then there are low-rise pieces such as the stunning "Turbine" ring, an abstract of the Turbine Hall in the Tate Modern.
Kerstin Laibach's unique ecological approach leads the way in pure ethical jewellery craft and judiciously avoids any hint of greenwash. All aspects of her advanced jewellery ethics and holistic making processes are earth and animal friendly – entirely vegan, with every detail completely hand-forged from the raw recycled precious metals from start to finish, producing extraordinary comfort and strength. Nothing is cast, no computer aids, no factory parts and obviously no damaging chemicals used, resulting in the most sustainable high-precision goldsmith artistry available. 15% of her profits go to wildlife and environmental protection including land-care education / sustainability projects in developing countries, helping subsistence based communities to protect complex eco-systems instead of digging it up for gold.
Visit kerstinlaibach.com or fingersculpture.com.