Seat launches augmented reality showroom experience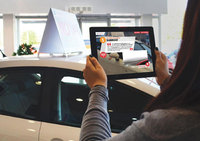 From today (Monday 14 January 2013), anyone entering a Seat showroom will be able to take a glimpse into the future, thanks to an amazing new augmented reality experience that uses the ground-breaking Blippar app.

The Blippar app combines the camera of an iPad, iPhone or Android-based tablet or smartphone with cutting edge augmented reality (AR) technology to bring the new Leon to life, right before the user's eyes.

The new augmented reality experience, launched today, overlays facts, images and video of the forthcoming Leon when the device's camera is pointed towards a current generation Leon on the showroom floor, demonstrating the new car's highlights and improvements in an engrossing new way…it augments reality.

Pointing the camera at Blippar markers, called 'blipps', placed around the car triggers facts and imagery relating to the specific parts being viewed. Point it towards the blipp on the bonnet, for example, and an image of the new Seat badge on the front of the forthcoming Leon appears on screen; move slightly to the left or right, and the user will learn about the new Leon's full LED headlamps, including why they're the most cutting edge lights in the hatchback class.

The augmented reality experience is the perfect way of demonstrating just how advanced the new Leon is, and the sort of features that customers will be able to enjoy once the car goes on sale in March.

"Given the advanced technology in the new Leon, the augmented reality experience is a perfect way for our customers to have a shared experience with our dealers in the showroom," said Seat Head of Marketing Chris Stevens.

As well as experiencing the optional full LED lights on the new Leon, users will be able to get interactive with all kinds of exciting new features, including its full colour infotainment unit, its startling cabin quality and design, its improved boot capacity, and its exceptional performance and economy statistics across the range.

"The blipps are there to educate customers as they explore the new Leon, making the experience much more interactive and memorable," said Jessica Butcher, co-founder and CMO at Blippar.

The AR experience was created for Seat by digital marketing agency AnalogFolk within the Blippar platform. The Blippar app is free to download and works with both iOS (iPad, iPhone) and Android operating systems. Participating Seat dealerships will from today have the system up and running, and are prepared to give a complete demonstration of the experience – so there's no need for anyone to miss out.