Land Rover made of the Black and White stuff to cope with UK snow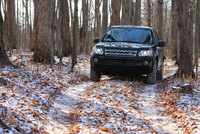 Land Rover is proving itself once again as the manufacturer of choice during Britain's latest cold snap. With the mercury plummeting into negative figures, the Met Office has issued several severe weather warnings throughout the UK and potential SUV buyers are turning to Land Rover as their trusted all-weather, all-terrain brand.

Land Rover dealerships across the country are reporting an increase in visitors and hits to the Land Rover website have risen considerably. The new 13MY Freelander, in particular the recently revealed 'Black and White' special edition, is proving one of the most popular choices for those looking for all-weather assurance. The Black and White special editions are sold from stock and are therefore often available to drive straight away from a dealer, providing customers with an immediate solution to the cold snap.

The new special edition was launched in December and offers customers an unparalleled value proposition, to include 17-inch split-spoke alloys, signature LED running lights, Bluetooth, privacy glass, rear load cover and gloss black exterior features and is priced at £23,495 for the TD4 manual derivative.

The Freelander Black and White special edition, as with all Land Rover 4x4s, features the marque's patented Terrain Response system which programmes the car's chassis and powertrain to optimum settings to cope with road and weather conditions. The Grass, Gravel and Snow setting will provide the driver with a softer throttle response to prevent wheelspin, and increased traction control intervention to keep all four wheels under greater control. This intelligent use of the Freelander's 4x4 systems gives drivers' increased confidence when negotiating adverse conditions including slush and snow.

The Freelander Black and White edition also benefits from Land Rover's recent model year updates including new front lights incorporating signature day time running LED light bars, new rear lamps, a revised interior and simplified controls providing a more luxurious ambiance.

Jaguar Land Rover UK Managing Director, Jeremy Hicks said: "The Freelander Black and White special edition offers a superb customer proposition providing generous equipment levels, the luxuries associated with a Land Rover together with the command driving position; particularly ideal for negotiating through difficult weather.

"The initial reaction to the Freelander Black and White has been enormously positive, so much so that Land Rover has decided to produce a further run later in 2013."

Land Rover UK recently published its biggest year-on-year sales increase with UK retails up 24.4% selling 54,480 cars in 2012. This sales success has led to 800 new jobs being created at JLR's Sollihull plant which manufactures the Range Rover, Range Rover Sport, Discovery and Defender products.