Luxury Salcombe Harbour Hotel & Spa set to open this summer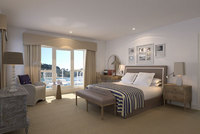 With the mullti-million pound refurbishment of Salcombe Harbour Hotel & Spa now fully underway, the luxury development is set to become the region's most desirable waterfront hotel and spa.
Selected by The Times as one of the "coolest places to stay in 2013", the hotel is already being recognised as one of the UK's most highly anticipated waterside resorts; with an incredible location and the facilities to match.
Due to re-open its doors in August 2013, the extensive refurbishment will result in a luxury hotel perched on the edge of Salcombe Estuary, complete with a stunning new spa, restaurant and function room facilities; all maximising on its unique location in the South Hams district of Devon.
General Manager of the Salcombe Harbour Hotel & Spa Jason Parry said: 'The development is on-course to deliver one of the UK's leading luxury coastal hotels, complete with an exquisite spa and restaurant - celebrating our spectacular location on the edge of Salcombe Estuary and further driving tourism for this beautiful holiday destination.'
With 50 fully refurbished bedrooms, the hotel is perfectly positioned to soak up the outstanding Estuary views, many with private balconies to enjoy the panoramic scenery. With its peaceful setting and exclusive environment, the hotel is certain to draw in tourists far and wide.
Tim Windibank of Salcombe Information, the town's tourist information centre, said: "We are hugely excited about the re-opening and what it means for Salcombe and the surrounding areas. Not only will guests be treated to some of South Devon's finest panoramic sea views, but the Harbour Hotel's luxury offering will ensure Salcombe continues to attract visitors from across the globe eager to experience the town's picturesque and unspoilt coastal setting."
The new Harbour Spa will feature state-of-the-art facilities, including a pool, Jacuzzi, sauna, steam room and treatment rooms, with glass frontage to enjoy the scenery.
The stylish new restaurant will take full advantage of its waterfront location, with award-winning chef Alex Aitken creating the menu concepts and top local chefs delivering mouth-watering fresh and seasonal dishes.
Alex Aitken said: "This is the most amazing location. I cannot wait to start exploring the local produce available here on our doorstep in Devon; working with local suppliers to create inspiring restaurant menus. As Chef Patron for Harbour Hotels' restaurant 'The Jetty' in Dorset - which was recently awarded 'Best Restaurant in the South West' - I have a very simple food philosophy, keep it fresh, seasonal and local."
Investing heavily into the landmark Hotel, Harbour Hotels is on track to delivering an end product that will not only help to boost local tourism and add to the local economy all year round, but will provide a community hub for all to enjoy.
Local Torquay based architect, Kay Elliot, has prepared the detailed design for the project and interior design team DO Design is introducing stunning new marine inspired décor throughout; including its current bedrooms, new restaurant and all public areas.
Sarah Daniels, DO Design said: "The new Salcombe Harbour Hotel & Spa interiors reflect a simple coastal elegance, drawing inspiration from its stunning Devon location and the days of Colonial Britain. It will feel like part of Devon."
The fully refurbished Salcombe Harbour Hotel & Spa will re-open its doors this August, doubles from £240 per night, B&B. salcombe-harbour-hotel.co.uk.