Channel your inner Aphrodite this Valentine's Day in Cyprus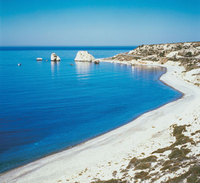 As the mythical birthplace of Aphrodite, the ancient Greek goddess of love and beauty, Cyprus has a well-earned reputation as the island of love. With one in five British couples choosing to tie the knot overseas, the Mediterranean's largest island continues to be the choice destination for romantic breaks and wedding ceremonies alike. With over 300 days of guaranteed sunshine a year, it's no surprise Cyprus continues to tug at the Brits' heartstrings.
With regular flights from the UK and daily February temperatures of 18 degrees (C), there is something for everyone to enjoy an extended break this Valentine's Day – from a luxurious stay in a five-star resort, exploring the ancient history and rural customs of the island off the beaten track, simply enjoying a weekend of pampering at one of the island's many spa resorts, to being ensconcedin a restored mountain village boutique hotel before heading to the fabled birthplace of Aphrodite herself.
For couples wanting to experience the real Cyprus, Casale Panayiotis is the ideal choice. Nestled in the Troodos Mountains, this boutique hotel sits within the spa village of Kalopanayiotis overlooking the St John Lampadistis monastery. All 29 guests rooms have been individually restored retaining original features, and furnished with antiques and Cypriot-crafted materials; and evening candle-lit meals can be enjoyed by the roaring open fire at its Byzantino restaurant, with a range of mouth-watering dishes using locally sourced produced. Rooms from €60 per night, on a bed & breakfast basis (casalepanayiotis.com)
Whilst for those wanting to soak-up Cyprus' coastline, which it is so famed for, the Thanos Hotel, Annabelle is the perfect option. A family-run oasis set within the six acres of lush green gardens on Paphos' sea front, Annabelle offers understated design along with four sumptuous restaurants and a spa featuring a range of organic and marine-based therapies. €1,900 per couple for a seven-night stay, including daily breakfast and evening meals (annabelle.com.cy)
Die-hard romantics can even follow in the trail of the goddess of love herself, taking time to gaze into the crystal clear waters surrounding 'Aphrodite's Rock' on the Pafos coast – the fabled birthplace of Aphrodite (swimming around the rock at midnight is said to make the swimmer younger by a year for every lap!) - before driving to Polis to the Baths of Aphrodite, a secluded pool where legend holds that the goddess is said to have seduced Apollo.
More information is available at visitcyprus.com.