Welcome to Wondercool Copenhagen in February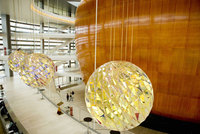 Live music in underground car parks, in the middle of the Darwin exhibition and in abandoned industrial buildings. Guided tours through Copenhagen's lesser-known neighbourhoods and dinners in settings that challenge social conventions. Welcome to Wondercool Copenhagen in February.
Boat trips calling at selected restaurants, celebration of the blue mussel, live music in both new and familiar constellations and guided tours through lesser-known Copenhagen districts are just a few of the items on the programme when Copenhagen's culture month, Wondercool, gets underway for the third year running.
Throughout February, Copenhagen Cooking, Copenhagen Jazz Festival, Designmuseum Danmark, the Danish Architecture Centre, the FROST music festival, Arken, Louisiana, the National Gallery of Denmark and Copenhagen Fashion Festival will be organising a series of events, including several cross-over events that mix food with design and music, for example.
Gastronomic odyssey and dinners with a twist
One of Copenhagen's great summer successes, The Copenhagen Cooking food festival, invites you to embark on a gastronomic odyssey lasting over three hours through the capital when this winter's edition of the festival kicks off in February. Focus will be on Nordic cuisine, with the chance to visit and taste Aamanns Smørrebrød (Danish lunch platter), Summerbird chocolate and a famous apple dessert wine.
Look forward to an unforgettable culinary experience when 'I'm a Kombo' serves up 'The Social Act' at Designmuseum Danmark as it explores and interprets the modern framework and social context of the meal. You will find yourself talking just as much with the other guests as with the people you came with.
Another new initiative during Copenhagen Cooking is MAD Mondays (MAD meaning food in Danish), presented by Noma's René Redzepi and the people behind the MAD symposium. Here you can take part in an informal monthly gathering and debate our food culture whilst learning about the food and gastronomy of the future. The event is free and participants can look forward to beer from renowned brewer Mikkeller and homemade soup.
Music at the Zoological Museum, in underground car parks and dark rooms
This year the FROST music festival once again invites you to listen to top Danish and international names at a series of concerts in unusual locations. Bands include 'Efterklang' playing at Dieselhouse in Sydhavn (South Harbour) and 'Elektro Guzzi' who will be playing at the Zoological Museum.
Expect a veritable bombardment of the senses when electronic musician Rangleklods plays in a dark room where sounds and specially designed lighting effects merge, and experience the unforgettable sound of Klezmer Concert performing their special brand of music at art museum Louisiana.
Behind Copenhagen, art and architecture
As part of Wondercool, the Danish Architecture Centre is staging 'Secret Saturday Walks' with guided tours of Refshaleøen (an island in Copenhagen's harbour), Nordvest and Ørestad. Enjoy a behind-the-scenes look at architecture when two leading Danish architecture companies, COBE Architects and JDS & KLAR Architects, invite you to step inside. Throughout February you can also enjoy free tours (in English) of Arken, Louisiana and the National Gallery of Denmark, which also offers winter jazz.
To view the entire programme log on to the wondercoolcopenhagen.com.