France still favourite with Brits buying abroad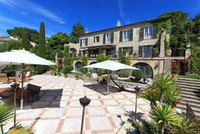 France has rubber-stamped its position as the UK's favourite place to buy overseas property, attracting the largest share of enquiries into information provider The Overseas Guides Company (OGC) for each quarter of 2012. The country ended the year with a bang too, by recording a higher level of interest during October, November and December - traditionally a quieter period - than in both the first and second quarters of 2012.
Direct requests for information about France fell just 3.7 per cent in the fourth quarter compared to the third quarter of 2012, a smaller drop than any other country covered by OGC, excluding New Zealand which saw a small rise. In December alone, requests for information about France accounted for a staggering 33 per cent of all OGC enquiries, the highest monthly level recorded all year.
Richard Way, Editor of The Overseas Guides Company, commented: "Interest in France surged in the summer months and then never really fizzled out. Our partner estate agency, Beaux Villages, which covers the south-west of France, reported an unusually busy August, their best ever in fact, and then continued to remain busy. While Spain was equally popular during the third quarter and most of the fourth quarter, it failed to match France's popularity during December.
"Prices are deflated in most popular European destinations, but France appears particularly good value for money at the moment, given the numerous pretty character homes available there for very attractive prices. Villages homes are particularly affordable and sought after."
Encouragingly, the total number of enquiries received by OGC during 2012 increased by 41 per cent year-on-year, from 19,916 in 2011 to 28,099 in 2012. Enquiries just for Q4 increased 46 per cent, from 4,677 in 2011 to 6,835 in 2012. This means OGC begins 2013 with a database of more than 59,000 people interested in overseas property or emigrating.
Added Richard Way: "The overall picture is one of more confidence in buying overseas property. There is a definite feeling that at the start of last year, British buyers sat on the fence waiting to see if the Eurozone really would break up, what would happen to the Euro, let alone the £/€ rate, as well as being fearful of buying into a market that had further to fall. Today, it would seem buyers - certainly lifestyle buyers who are financially independent - are returning to the market."
For more information, visit overseasguidescompany.com.