Africa's first permanent photo safari operator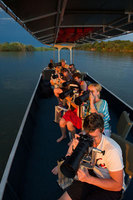 Pangolin Photo Safaris is Africa's first permanent photo safari business operating in The Chobe, Botswana.
Pangolin was started by two keen photographic guides who saw that there was an increasing level of conflict on safari between photographers and non-photographer in a similar ilk to that experienced historically between birders and non birders.
In an attempt to resolve this "conflict" Pangolin was born with the intention of being an absolutely photo centric safari operator catering to the specific needs of amateur and professional "snappers" alike.
Uniquely Pangolin operates every day of the year in The Chobe meaning that clients can join them any day, come rain or shine, and be assured that the guides and drivers will endeavor to get them more photographic opportunities in a game drive than with a traditional operation.
Pangolin has invested substantially in a custom built "Photo Boat" with eight rotating camera seats and mountings and converted Unimog to act as photographic platforms. Additionally, and most importantly there is a state of the art digital SLR camera for every one of the 16 seats. This means that clients travelling through The Chobe with only a simple point and shoot camera can join Pangolin for as little time as one game drive and use their equipment to get a shot that will truly justify their safari adventure. The client is given an SD card or DVD containing the images to take home with them.
As well as the single photo safari activities, which fit neatly in to any itinerary, Pangolin regularly runs photographic workshops with some of the regions most prolific and talented photographic guides and instructors. These workshops are aimed at all levels of photographer and often focus on one skill set such as Birding Photography.
Pangolin intends to expand its offering to other African countries and become the trusted photo safari brand. Plans are afoot to run safaris in Namibia, Uganda Kenya and various South African reserves in the near future.
For more information, visit pangolinphoto.com.
Prices start at $120 for a single morning or afternoon activity to $2500 for a 5 day Better Wildlife Photography course.
The cameras supplied by Pangolin are Nikon D7000s with 150-500mm telephoto lenses. Although Pangolin currently uses Nikon cameras they are in now way affiliated with Nikon and welcome users of every brand of camera. In fact the photographic guides who accompany the game drives are able to offer advice and tuition on getting the most out of all the popular camera brands.
There are only eight seats on the Photo Boat and Unimog, which have been designed to make photography as hassle free as possible. The seats on the photo boat rotate fully and clients can freely move to either side of the Unimog eliminating most obstructions and allowing clients to have a clear shot of the subject on either side.