Kiteboarding now offered year round at Nonsuch Bay, Antigua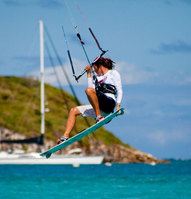 Kiteboarding is now available all year round at Nonsuch Bay, Antigua's luxury sailing resort. The resort has perfect conditions for kiteboarding as it is inside a barrier reef with a huge flat water sailing area and a steady tropical breeze.
Kiteboarding is one of those few sports, where women compete on equal terms – strength and height are not an issue. With the right instruction and attention to detail, kiteboarding can be picked up relatively quickly.
Lessons are run by the kiteboarding and windsurfing school, 40 Knots, who have IKO (International Kiteboarding Organisation) qualified instructors. Kiteboarding lessons consist of private tuition either in the bay or on a sandy beach ten minutes boat ride from the resort.
Guests, who want to learn to kiteboard, can start with an hour long taster session, which introduces them to the flying equipment. They practise on the beach and then on the water to get the real taste of kiteboarding. Taster sessions cost from £42 and will be deducted from the cost of the full course.
Novices can then move on to the "Get Going" course which has the specific aim to guests up and surfing as quickly as possible as soon as the key principles of safety have been covered. The course is a package of three two hour lessons costing £300. A similar complete beginners windsurfing course comprising five two hour lessons also costs £300.
More experienced kiteboarders can opt for "Riding with Assistance" which includes a boat trip to the launch beach, use of equipment and expert supervision costing from £80 for 2 hours.
Nonsuch Bay is on a secluded bay in the south east corner of Antigua, twenty minutes from English Harbour. The 40 acre resort is different for Antigua as the accommodation is solely made up of luxury apartments and villas. The resort has three infinity pools, specialist sailing facilities with a fleet of 20 sailboats and a restaurant run by award winning chef Mitchell Husbands on the bluff overlooking the bay.
Prices start from £425 per person for seven nights, based on four people sharing a two bedroom apartment on a room only basis. A week in a two bedroom apartment with inclusive use of the sailboats starts from £609 per person.
For more information, visit nonsuchbayresort.com.